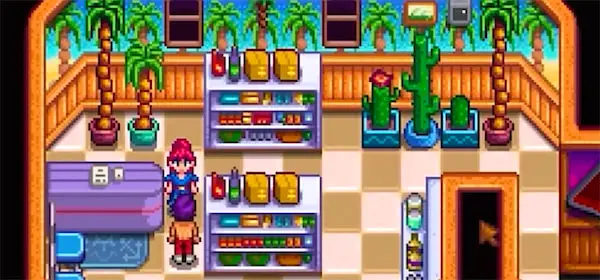 The Oasis Shop is a unique retail establishment located in the lower left corner of the desert. For Stardew Valley players, this shop holds some interesting opportunities and challenges. But before you can explore the Oasis, you'll need to restore the bus, either by completing the Community Center (costing 42,500G for the Bus Repair Bundle) or by going through the Joja route (costing 40,000G). The shop operates from 9:00 AM to 11:50 PM, and here's why it's worth a visit.
Shopkeeper: Sandy
Sandy runs the Oasis Shop and is generally available at the counter except for her birthday on the 15th of Fall, when she steps out in the afternoon. She doesn't participate in any festivals, except for the Winter Star Festival. During festivals, the shop remains closed.
Types of Goods
The shop sells two types of goods:
Daily Stock: Includes Cactus Seeds, Rhubarb Seeds, Starfruit Seeds, Beet Seeds, seasonal plants, and the Painted Cactus decoration.
Weekly Rotating Stock: One item and one piece of furniture available only on specific days of the week.
Daily Stock
Cactus Seeds
You can only buy Cactus Seeds here. However, planting them outside causes them to wilt the next day. Though they can be grown in the Greenhouse, they aren't as profitable compared to other crops like Pineapples on Ginger Island.
Rhubarb Seeds
Rhubarb is a decent choice in Spring when other crops aren't performing well. However, the benefits diminish as you advance and unlock other profitable ventures.
Starfruit Seeds
Starfruit is the top choice for making wine. If you can grow and ferment Starfruit, your financial worries in the game are basically over.
Beet Seeds
Beets are a low-priced crop not suitable for wine-making, but you need ten of them for a quest at the casino and one for a shipment. They can also be milled into sugar.
Weekly Rotating Stock
Mondays: Coconuts
Ten coconuts are available. Late-game, you can trade them for Golden Coconuts, which can be difficult to find otherwise.
Tuesdays: Cactus Fruits
Mainly for eating or gifting. Their value is not very high compared to salads.
Wednesdays: Omni Geodes
You can buy three Omni Geodes for 1,000G each. If sold in unlimited quantities, these could be a game-changer for mineral and artifact collection.
Thursdays: Deluxe Speed-Gro
At 80G each, these are great for speeding up the growth of long-duration crops like Pumpkins or Red Cabbages. It's more cost-effective than Pierre's, which starts selling them in Year 2 at 150G.
Fridays: Honey
Unlimited honey is available for 200G. You can make a decent profit if you ferment it into Mead, which sells for 280G. Good for players with many Kegs.
Saturdays: Quality Retaining Soil
Not very useful as it only has a chance to retain water.
Sundays: Ice Cream
Priced at 240G, its only real use is gifting it to Alex or Krobus if you don't have a Strawberry.
Strategy and Tips
Thursdays are Crucial: Remember that Deluxe Speed-Gro is available only on Thursdays. If you plan to use it in Summer, the last Thursday you can buy it is the 25th of Spring. However, Pam has her annual check-up on this day, meaning the desert is inaccessible. Plan ahead by buying Desert Warp Totems.
Bulk Buying: If you're going to buy items like honey or Deluxe Speed-Gro, consider buying in bulk to offset the travel time and effort.
Furniture is Optional: The furniture in the shop can also be obtained for free from the Catalogue, making them somewhat redundant purchases.
Budget Planning: Factor in the cost of these items when planning your seasonal budgets.
Conclusion
The Oasis Shop may come with a substantial initial cost, but it offers unique items that can shape your gameplay strategy in Stardew Valley. Whether you're looking to optimize your farm's output or simply add a dash of the exotic to your Stardew life, the Oasis is a destination worth the trip.