If you love to mine, collect shiny valuable gems, and farm ores, well, Quarry is a heaven on earth for you, or better to say heaven in Pelican Town.
This vast area is full of valuable things that can be gathered, and it's a true game-changer once you unlock it.
So today, you will learn all about it, where it is, how to unlock it, what exactly you can find in it, and what's the most useful strategy for using its best potential.
| | |
| --- | --- |
| Topic | Information |
| Location | East of the Adventures Guild, past the large wooden bridge |
| How to Unlock | Complete Crafts Room Bundle in Community Center or buy from Joja Community Development Form for 25,000g |
| Fast Travel | Unlock minecart by completing Boiler Room Bundles in Community Center or purchasing from Joja Mart for 15,000g |
| What Can You Find | Ore veins, gem nodes, stones, trees, Artifact Spots, Mystic Stones, and a chance for Prismatic Shards |
| Strategy | Clear the Quarry as fast as possible, destroy nodes and rocks every 1–3 days, use bombs, and cut down trees |
| Quarry Mine | Entrance on the left side of the Quarry, one floor with slimes and Haunted Skulls, Grim Reaper Statue holding Golden Scythe, larger radius and 75% chance to harvest hay from grass |
Where is the Quarry Located in Vanilla Stardew Valley?
In both the vanilla game and Stardew Expanded, the Quarry lies east of the Adventures Guild, just past the large wooden bridge. However, it's not available right from the beginning, but I'll talk about that soon.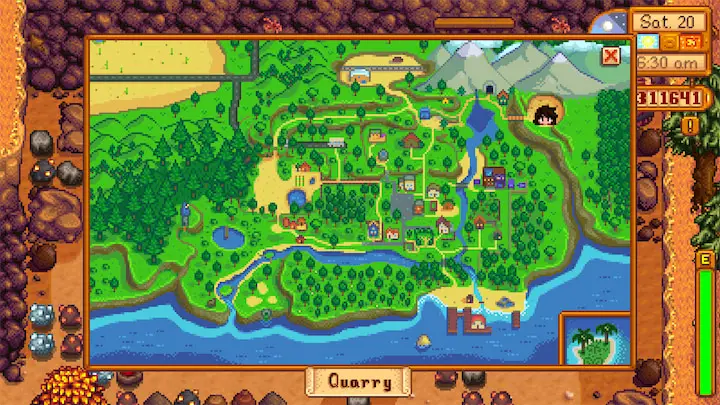 Here you can see the exact location on the map. (Keep in mind that I'm running the Vanilla Stardew without any mods)
The Quarry looks like this, and it's filled with ore veins and gem nodes. Also, don't pay attention to the number of coffee I have; it's my 5th year.
How to Unlock The Quarry
As I already said, this area won't be available for you from the beginning because you need to unlock it by completing the Crafts Room Bundle in the Community Center. But, if you are a sympathizer of the Dark Side ( I don't blame you because Pierre is a slimy liar), you can unlock it by buying it from Joja Community Development Form for 25,000g.
As a veteran Stardew Valley player, I recommend you stick with Community Center because it's more profitable. Plus, there is no reason to rush to unlock it because the mines exist.
How to Fast Travel to The Quarry
The awesome thing is that you won't have to have an expedition to the Quarry because you can unlock the minecart. You can find it north of the bus stop, and from there, it can take you to three locations: The Quarry, The Mines, or Pelican Town (next to Clint).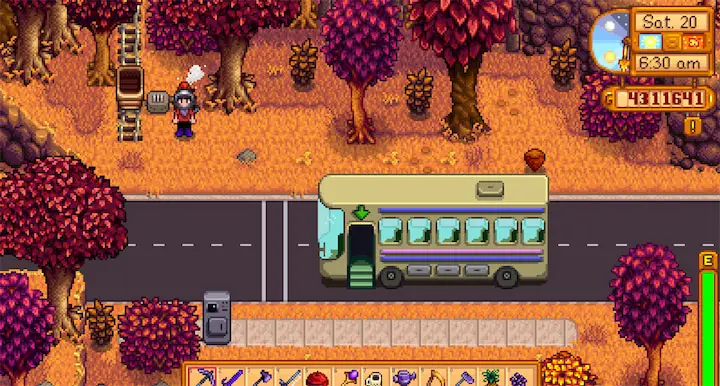 Just like the bridge, you can unlock the minecart by completing Boiler Room Bundles (this time) in the Community Center or purchasing it from Joja Mart for 15,000 gold. And again, Community Center is a better way of unlocking because it's perfectly synchronized with the game's pace.
What Can You Find In the Quarry
Every node or vein can appear in the Quarry. So if you are lucky, you can find an iridium ore vein or a prismatic shard, but it's randomly generated, so that's tricky. The Quarry is mainly filled with stones and a certain number of trees that prevents ores and nodes from spawning. There are also some Artifact Spots in the Quarry, so don't be surprised if you find something.
Prismatic shards can drop from rare Mystic Stones. They are purple and have blue runes all over them, so they are hard to miss. There is a 25% chance that the prismatic shard will be inside the mystic stones. I know those chances are low, but still, there are some.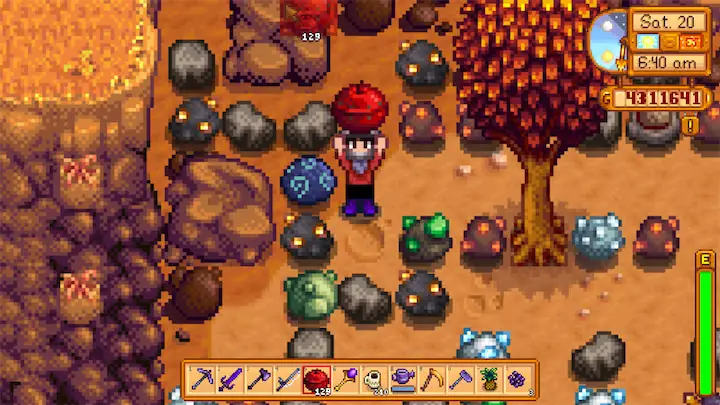 The Mystic Stone looks like this. And yes, I'm about to blow the whole palace up.
Strategy
A specific strategy increases the chances for nodes, ores, and mystic stones to spawn, and today you'll learn how to use it.
When you destroy something from the Quarry, either rock or node, something new will respawn the next day. However, not in large numbers, so if you destroy 50 spawns or more, only 5–10 will respawn the next day.
The best thing you can do is the same thing I did for four years of playing. That is to clear the Quarry as fast as you can once you unlock it and then keep clearing it every 1–3 days, depending on your priorities. But know this.
For example, imagine that you cleared the whole Quarry. The ore vein will spawn in a certain place, and perhaps the next day, a mystic stone will appear there, but if the block already has something on it, it will not be able to do so.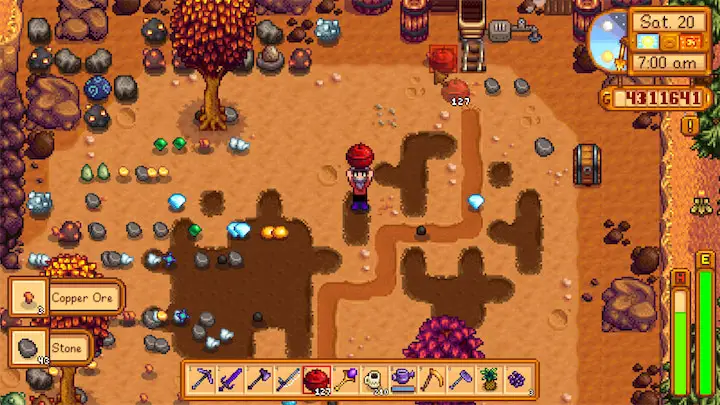 Bombs are your best friends in the Quarry, so bring tons of them when there is plenty of things to mine.
And the last thing. Cut down the trees (or blow them up if you like big old boom), and keep an eye out for seeds.
The Quarry Mine
There is an entrance to a cave on the left side of the Quarry.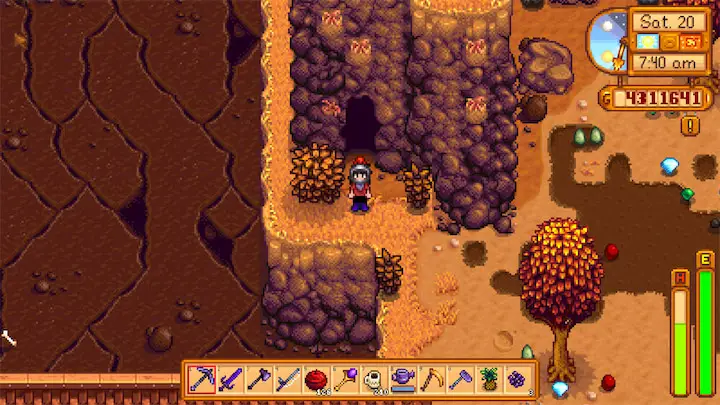 Inside you will find a warning sign and a ladder that leads underground. The ladder will take you to a single floor filled with slimes and a new type of monster (if you didn't encounter them in dungeon floors in the mines) called Haunted Skulls. They are not worth farming because their drops are extremely rare (the highest drop rate is 1.5%), so you will only have to visit this floor once.
At the end of the floor, you will find a Grim Reaper Statue holding the Golden Scythe. (I already picked it up and you can see it in my inventory.)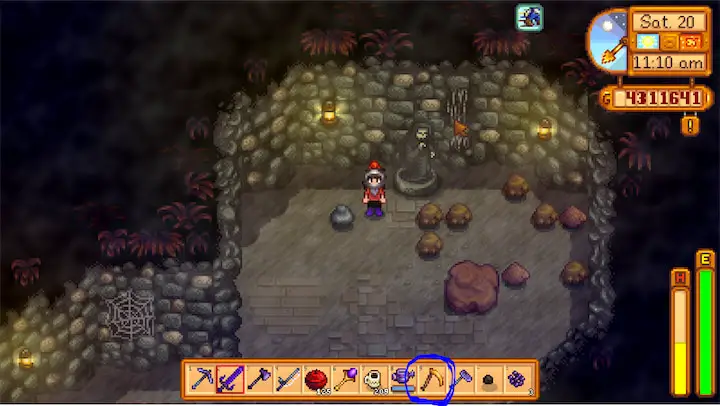 The Golden Scythe
When I first got it, I thought it was nothing special, but soon I learned that it's actually valuable as it has:
Larger radius than the regular Scythe, and it is more likely to cut all grass in its radius.
75% chance per swipe to harvest hay from grass, up from 50%.
Plus, it inflicts 13 damage, up from 1–3.
Unlike other tools, you cannot upgrade your scythe, so this is
So what's important
The Quarry can be quite significant and negligible (if not at the beginning, then in the late game) depending on what you want, need, and what type of a farmer you are. Nevertheless, it can be a true lifesaver when you are missing some specific ore and remember that the quarry exists and it's waiting to be bombarded. That means it can always be useful and can help you with ore and gem supplies.