Snake vertebrae can be difficult to find in Stardew Valley, especially for the newer players of the game who are playing for the first or second time. It can be confusing as the player is barely given any information that he should know before venturing out in the quest to find the snake vertebrae. But we're here to help you get around those vague details and find them quickly and efficiently with our excellent strategy!
Overview of Snake Vertebrae in Stardew Valley
Snake vertebrae is an item in Stardew Valley needed to complete the Snake specimen during Professor Snail's quest in the Island Field Office on Ginger Island. You need to find two snake vertebrae to be able to get rewarded after donating them to Professor Snail.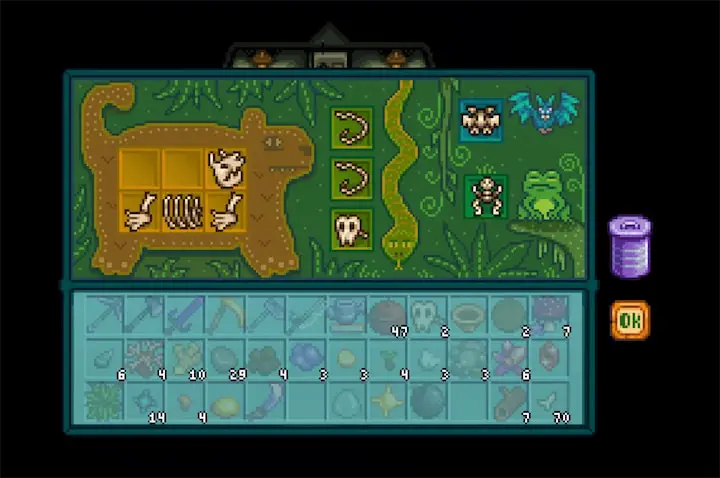 The reason why the snake vertebrae and the Snake specimen are so important is that with it, you can get 3 Golden Walnuts and a Mango Sapling as a reward for donating them to Professor Snail. These tips are useful if you're looking to start growing mango trees or gather some Golden Walnuts because they're the currency of the parrots living on Ginger Island.
Tips for Finding Snake Vertebrae
The first thing you need to do to find the snake vertebrae is travel to the west side of Ginger Island, as that's the only place where you're able to get the snake vertebrae in a legit way. Getting to the west side of Ginger Island can be difficult because you need 10 Golden Walnuts to pay for nearby parrots when you approach the turtle on the starting beach.

When you do that, you must find Artifact Spots coming out of the ground, and then you must dig them out with a hoe because other tools cannot remove them from the ground.
Strategies for Finding Snake Vertebrae
The best way to dig out an Artifact Spot from the ground is to search for it during winter because it's much more common than any other season. Then they can even spawn in grass-type tiles, unlike in other seasons where they can only spawn tillable soil.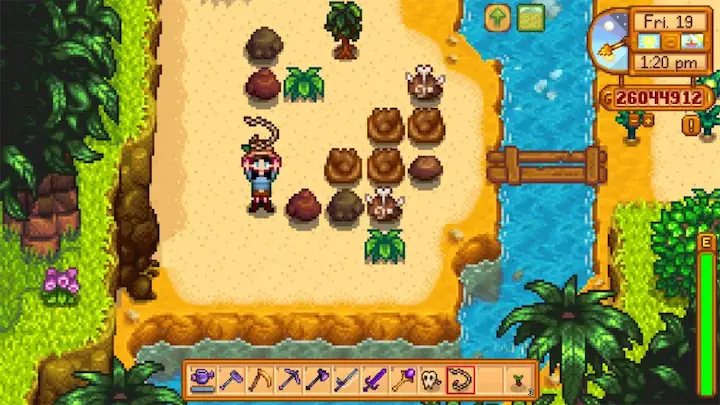 Also, know that Artifact Spots can spawn behind certain objects like trees, which you'll have to chop down to see if they're behind or underneath.
The best strategy is to search for Artifact Spots during the winter for the best result, so you should visit the western side of Ginger Island during that season if you're not patient enough to search for it at any other season.
Conclusion
Finding snake vertebrae is difficult in Stardew Valley. The only thing you need besides your hoe to get it is patience to search for Artifact Spots and luck, since there's a 22.5% chance that a snake vertebra will come out of the Artifact Spot.
When you find it, go to the Island Field Office on the island's northern side and south of the Volcano. There you will find Professor Snail, and if you have the Snake Skull, you can donate the snake specimen and receive 3 Golden Walnuts. You can also sell it for 100 gold if you don't want to donate it to Professor Snail.
And if you still can't figure it out, then check this video for further help!