Stardew Valley Expanded mod comes with bigger special quests, areas to explore, animals, farms, and more. Special orders or quests are one part of the game you will love. On your first year while on the second day of the fall season, you will see a new commission board below the house of Mayor Lewis. This board contains different special order quests put in by those living in the town. After completing special orders, different new items and cutscenes which make the game easier for you will be unlocked. This is why we will explain where you will find these questions, their rewards, and how to complete them in this article.
Where to find special order quests in Stardew Valley Expanded
From the introduction, the new commission board is made available to you in a cutscene in the Fall of your first year in the Stardew Valley game. You will find it outside the house of Mayor Lewis. New special orders which are more difficult to finish than others are made available each Monday. If you fail to complete the special order quests on time, any items used in performing the task will appear in a box known as the Lost and Found box found inside the house of Mayor Lewis.
How to Start a Special Order Quest
Now that you know where to find Stardew Valley Expanded special orders, the next thing to do is to start one. It is important you know that these special orders have different tasks, requirements, and time limits and most of them can only be done just once in the Stardew Valley Expanded mod.
Some of the special order quests include:
Community Cleanup
Island Ingredients
A Curious Substance
Cave Patrol
Aquatic Overpopulation
Gifts for George
Rock Rejuvenation
Community Cleanup
This is one of the special order quests from Linus. It is not a repeatable quest. You are required to fish 20 trash items except for Joja Cola in seven days. One tip I recommend for you is to consider trash from Garbage Cans and Crab Pots. After completing this quest, you will receive Fiber Seeds Recipe in your mail and 500g. Apart from these special order rewards, you will also get a Friendship Heart with Linus. Fiber Seeds allows you to farm Fiber and with it, the plant can grow in all weather without a water source.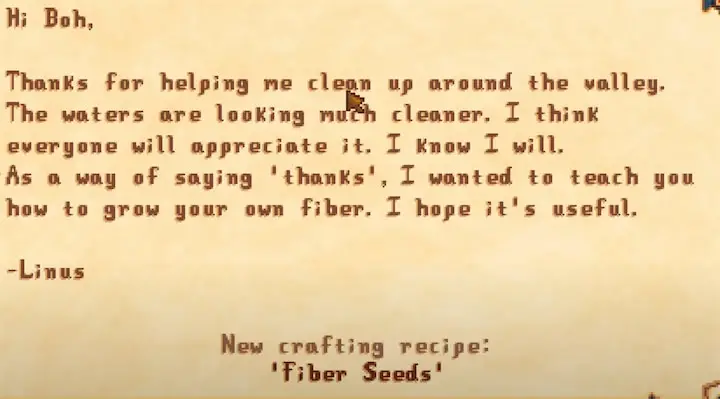 Island Ingredients
This is one of the simplest quests in Stardew Valley Expanded mod that requires you to have 100 pieces of a tropical crop. For this quest, you are to harvest taro root, ginger, and pineapple. However, don't mix or match them. The special order rewards for completing this quest are a solar panel and gold for generating batteries.
A Curious Substance
This is a 7-day duration special order quest from Wizard. You are required to gather an Ectoplasm by killing Ghosts. The tip for completing this quest is to use Monster Musk before you enter the Mines. All Ghosts in the Mines Or skull Cavern drops 9.5% rate of Ectoplasm. You will unlock the Mini-Obelisk recipe and 2500 gold after completing this special order. This recipe will be sent to you through the mail. With Mini-Obelisks, you can teleport around Stardew Valley. This saves you time and energy.
Cave Patrol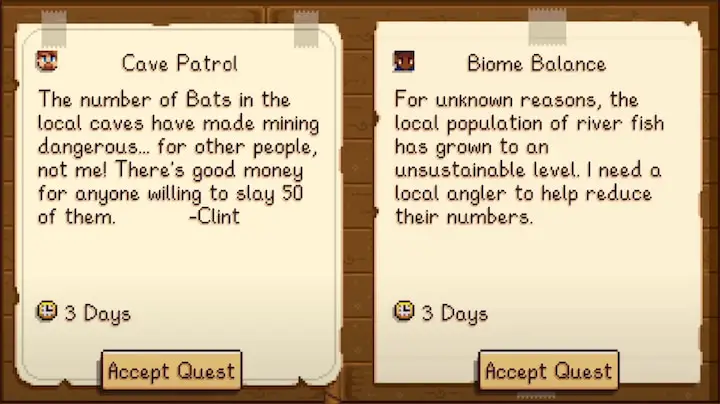 There are endless numbers of monsters in Stardew Valley's Mines and Skull Cavern. This Clint's special order is aimed at reducing the number of monsters to make it safer. You are required to complete this quest by defeating 50 bats, grubs, skeletons, and dust sprites. The tip in completing this special quest is to first locate where the spawn is depending on the bats and other monsters to slay. Bats can be found on floor 31, and from floor 41 to 79, you will encounter Dust Sprites. You will see Skeletons on floor 71 and 79, while floor 15 to 29 contains Grubs. One of the tricks that will help you to complete this quest is coming with food items to recover energy or health. The special order rewards after completing this quest are the Geode Crusher recipe and 6000g. With the Geode Crusher, you can break open every type of Geode with Coal. This machine saves you time going to the blacksmith stop.
Aquatic Overpopulation
This 7-day duration special order quest is offered by Demetrius who needs your help in thinning out the population of fish. To complete this quest, you have to catch 10 kinds of fish. The special order rewards for completing this task are gold and a farm computer recipe.
Gifts for George
George believes nobody cares about him in the town. To prove him wrong, Evelyn, his wife, requested this quest. To complete this special quest, you are required to get 12 leeks from foraging during the spring. You will get a coffee maker for creating a daily cup of coffee and 2000 gold as the special order reward.
Rock Rejuvenation
Emily is the source of this special order quest. She wants to perform a ceremony and needs a collection of crystals such as jade, a topaz, a ruby, an emerald, and an amethyst. To activate this special order, you need to unlock her sewing machine. After completing this quest, you will receive 1000 gold, a sewing machine, and a cutscene in the house of Emily. The tip in this quest is to locate these items during high-luck days in Volcano Dungeon or Skull Cavern.
Final Verdict
Stardew Valley Expanded special orders to make the game easier for players. You can also earn money and other rewards after completing any of the quests. There are different special order quests in Stardew Valley. Each of these quests has its rewards. You can find these special order quests at the house of Mayor Lewis. Some of the quests are more difficult than others. So, it is important you read this article again to understand how to complete them and know tips that make it easier.