In our previous discussion about the friendship system, we didn't go into detail about marriage in Stardew Valley. So, in this tutorial, we've compiled all the essential information about marriage in the game for those interested.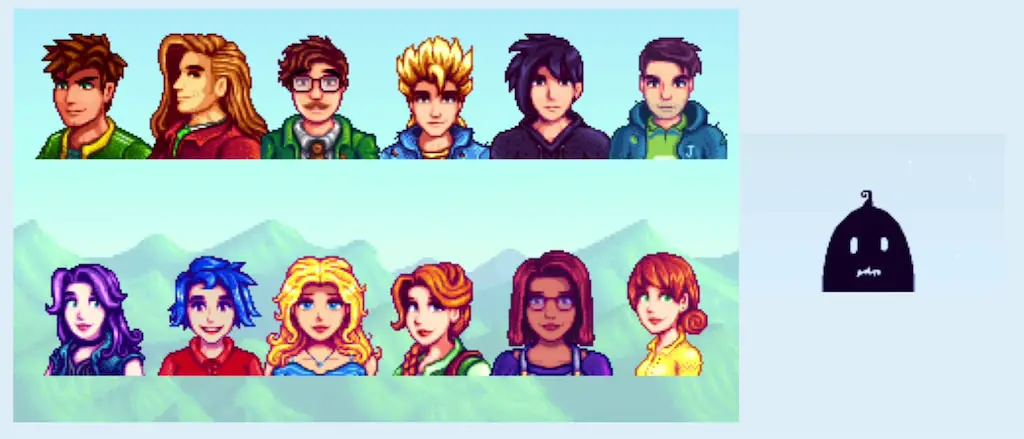 In Stardew Valley, players can experience a range of emotional events, including dating, breaking up, proposing marriage, and even divorce. You can propose to and marry any of the 12 eligible bachelors or bachelorettes, regardless of gender, and you can also choose to have a platonic relationship with Krobus.
Eligible Villagers

First, let's talk about the process of marrying an eligible villager. To marry someone, you need to put in some effort. You must first reach an 8-heart friendship level with any eligible villager to qualify for romance. After reaching the 8-heart level, Pierre will send you a letter notifying you that bouquets are available for purchase at his shop. You can then buy a bouquet to give to the person you wish to date, unlocking the 10-heart friendship limit and entering a dating relationship.
Dating Multiple Villagers
Before marriage, you can date multiple villagers by giving them bouquets. However, be aware that this might trigger group 10-heart events.
For instance, if you give all the single ladies bouquets and reach 10 hearts with them while experiencing each of their 10-heart events, entering Emily's house will trigger a group 10-heart event for the ladies.
The same goes for the bachelors, but their group event takes place in the saloon.
After triggering a group 10-heart event, all the ladies or men will be angry for a week, refusing your gifts and speaking to you with irritation. After a week, they'll forgive you, and their dialogue will return to normal. However, if you carry a Rabbit's Foot in your inventory during a group 10-heart event, it won't be a problem. The ladies' event will turn into a gossip session, while the men's event will become a friendly game of pool.
Breaking Up

You can also break up with a villager if you wish. To do so, place a bouquet and coal in a furnace to create a Wilted Bouquet and give it to them. This will remove the "dating" status in your Social tab and trigger unique dialogue (and reduce their hearts to 5).

Proposing

Once you reach a 10-heart friendship level with an eligible villager, you'll receive a letter from Mayor Lewis reminding you to propose using a Mermaid's Pendant, which can be purchased for 5,000g at the East Pier on rainy days, provided you've reached 10 hearts with your marriage candidate, upgraded your farmhouse at least once, and repaired the bridge.

After purchasing the Mermaid's Pendant, you can give it to your intended spouse as a proposal. If they accept, a pendant icon will appear on the calendar for the wedding day. The wedding will take place three days after the proposal. Make sure to dress appropriately, either in a suit or a wedding dress. Both can be crafted using a sewing machine, which becomes available after an interaction with Emily.
The Wedding
After the cutscene, you can use the sewing machine in Emily's house to make clothes or dye them with a dye pot. The suit and wedding dress can be worn by characters of any gender. Check the list below for specific crafting materials.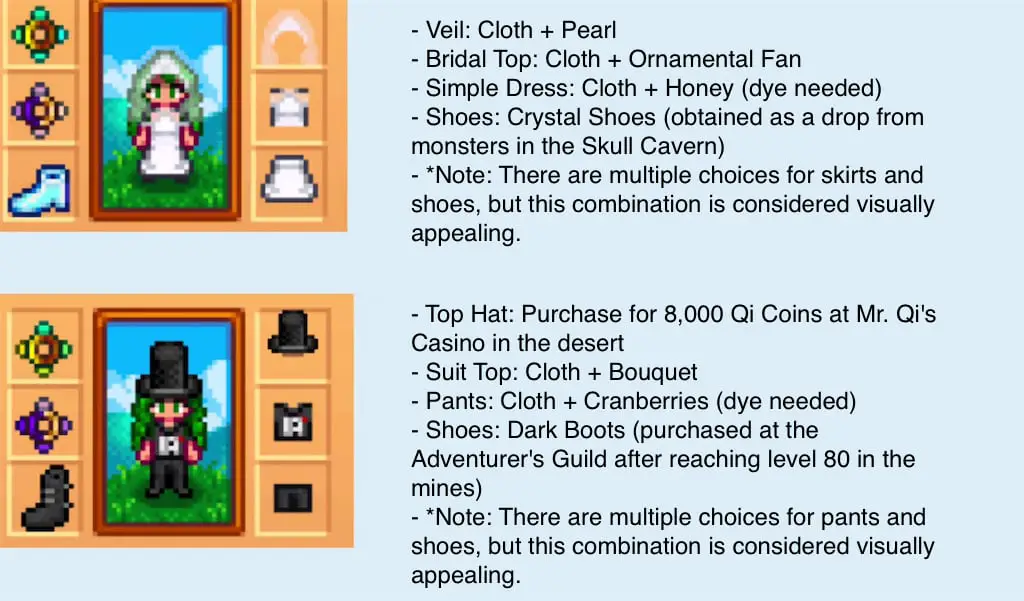 Bridal Outfit Materials
Veil: Cloth + Pearl
Bridal Top: Cloth + Ornamental Fan
Simple Dress: Cloth + Honey (dye needed)
Shoes: Crystal Shoes (obtained as a drop from monsters in the Skull Cavern)
*Note: There are multiple choices for skirts and shoes, but this combination is considered visually appealing.
Groom's Outfit Materials
Top Hat: Purchase for 8,000 Qi Coins at Mr. Qi's Casino in the desert
Suit Top: Cloth + Bouquet
Pants: Cloth + Cranberries (dye needed)
Shoes: Dark Boots (purchased at the Adventurer's Guild after reaching level 80 in the mines)
*Note: There are multiple choices for pants and shoes, but this combination is considered visually appealing.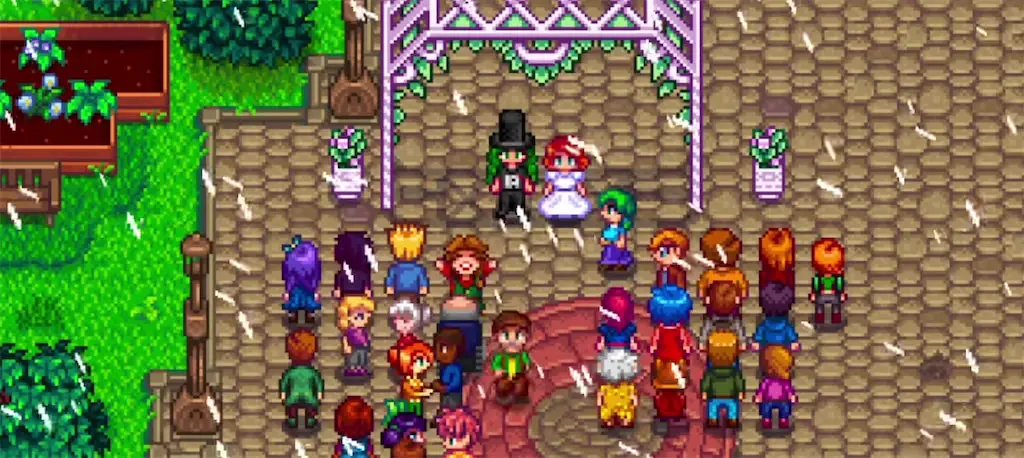 Generally, your wedding will not be delayed. However, if there's another event happening in town on the same day, the wedding will be postponed. On your wedding day, the weather icon between the date and event will be replaced with a heart shape, and the weather will always be sunny, regardless of the previous day's forecast.
Married Life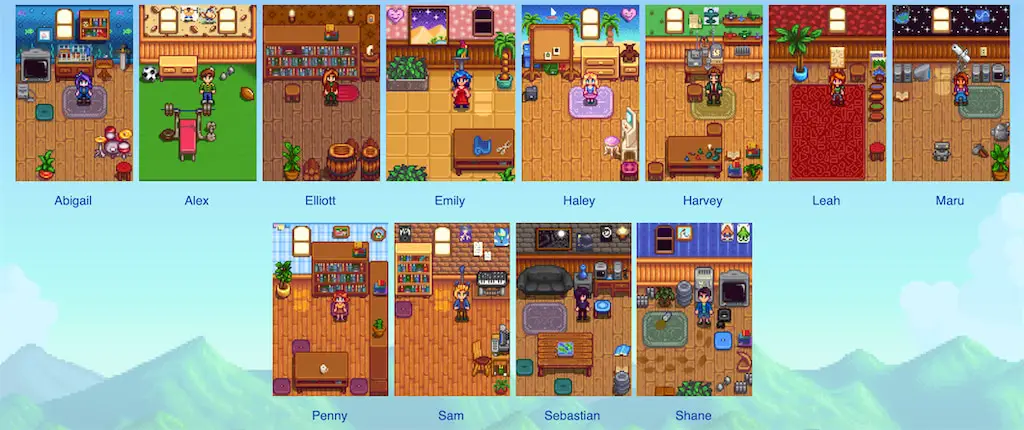 After marriage, your spouse will move into your farmhouse, their room will be added to your home, and an outdoor area will be created for them in your yard. Different NPCs will have unique room and outdoor area designs, which you can refer to in the provided images.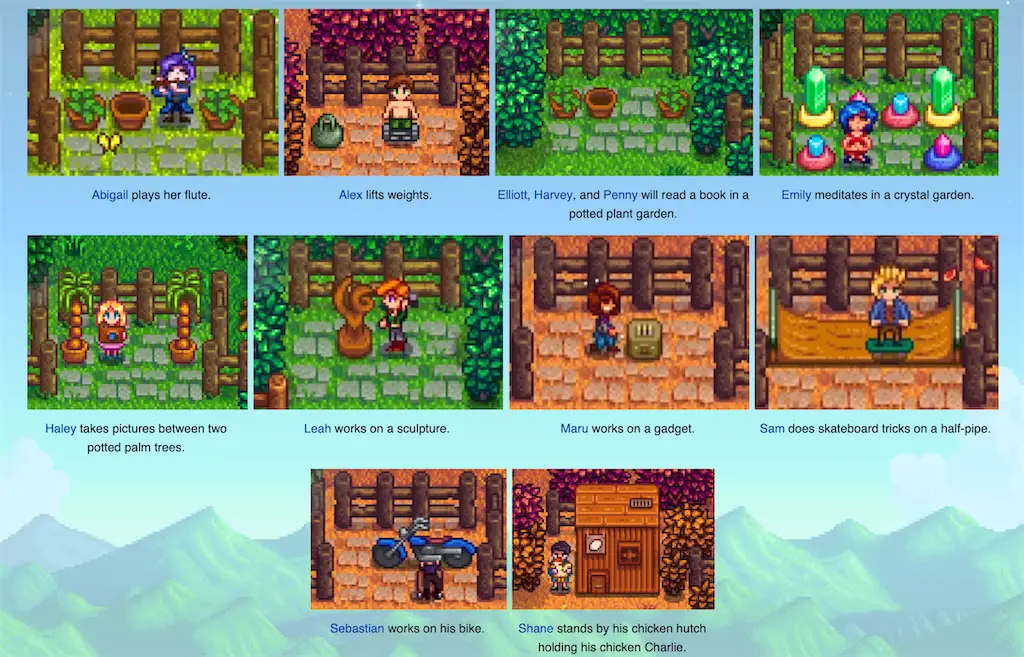 Additionally, your spouse's friendship level will increase from 10 hearts to 14 hearts, and the twice-a-week gift-giving limit will be removed. You can give your spouse their favorite gifts daily to keep them happy.
Spouse Chores

Oh, when they are happy, they will help us with some chores on our farm, such as watering crops and petting animals. Once our affection level with our spouse reaches 12.5 hearts, we can receive a Starfruit. For multiplayer partners, this can be obtained from the purple gift box beside the bed after marrying another player. It's important to note that our spouse's affection decay will never stop, even after reaching maximum hearts. So, we need to maintain a good relationship with our spouse.
Jealousy
Furthermore, after marriage, we should stop any flirtatious behavior. If we give gifts to other single villagers and our spouse finds out, they may become jealous. Giving flowers is even worse, as it will decrease our affection by two hearts, and morally, it is severely frowned upon!
Children
Now, let's talk about children. After marriage, we can consider having a child. Regardless of whether our spouse is the same or opposite sex, we can have children. Opposite-sex couples will have their own child, while same-sex couples will adopt. To have a child, we need to be married for at least seven days, maintain a ten-heart affection level with our spouse, and have a fully upgraded house with a nursery.
Having a Child

| Stage | Time | Description |
| --- | --- | --- |
| 1 | First 14 days | Baby remains in the crib |
| 2 | After stage 1 | Baby gains 1 heart, can be interacted with by throwing in the air to increase affection |
| 3 | After stage 2 | Baby starts crawling around the house, can be interacted with by right-clicking to increase affection |
| 4 | After stage 3 | Child walks around the house, can be interacted with by right-clicking to increase affection |
Once these conditions are met, there's a chance each night to trigger a dialogue with our spouse about having or adopting a baby. If we agree, the baby will be born in 14 days, appearing in the crib. Children will go through four growth stages, and aside from the first stage, we can interact with them to improve our relationship during stages two to four. However, they will not grow beyond stage four. We can have a maximum of two children. The first child's gender is random, while the second child's gender will be the opposite of the first. Only after our first child reaches stage four can we have the chance to have a second child.
Dark Shrine

Moreover, there's a dark shrine in the Witch's Hut, where if we decide we don't want to care for our children anymore, placing a Prismatic Shard in the shrine will turn them into doves and they will fly away.
Divorce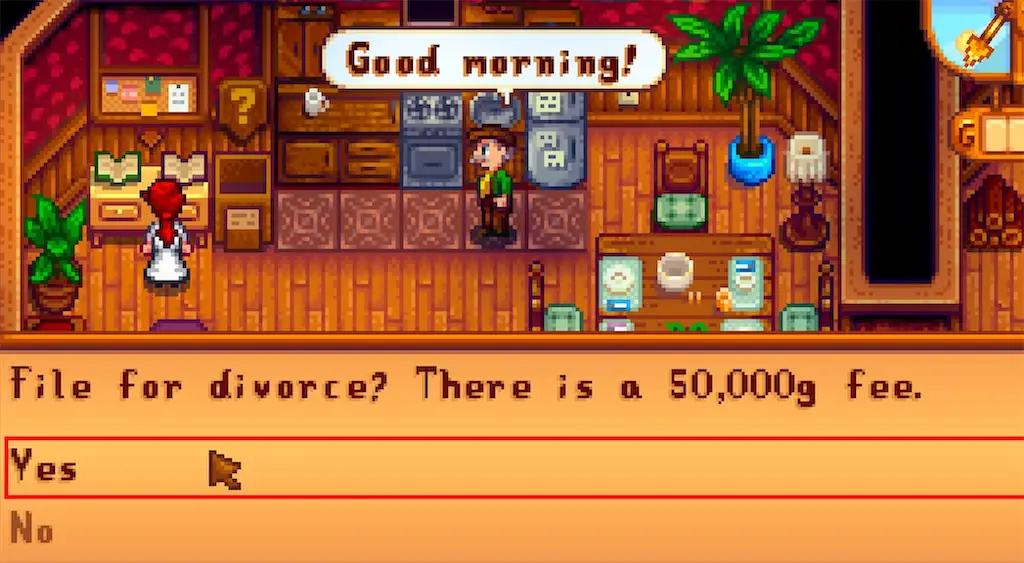 Finally, let's talk about divorce. We can find a book in Mayor Lewis' house, and by clicking on it, we can pay 50,000 gold to file for divorce. If we regret our decision, we can cancel the divorce before Mayor Lewis' house closes for the day. If not, our spouse will leave the next morning, our affection will reset to zero, and our relationship status will become ex-husband or ex-wife, with only negative interactions remaining. If there are children involved, they will remain in the farmhouse.
Getting Back Together
Of course, if we decide we want to get back together with our ex, we can visit the Witch's Hut and find the memory erasing shrine. For 30,000 gold, our ex will lose all memories of the marriage, and we can start dating and marry them again.
Platonic Love with Krobus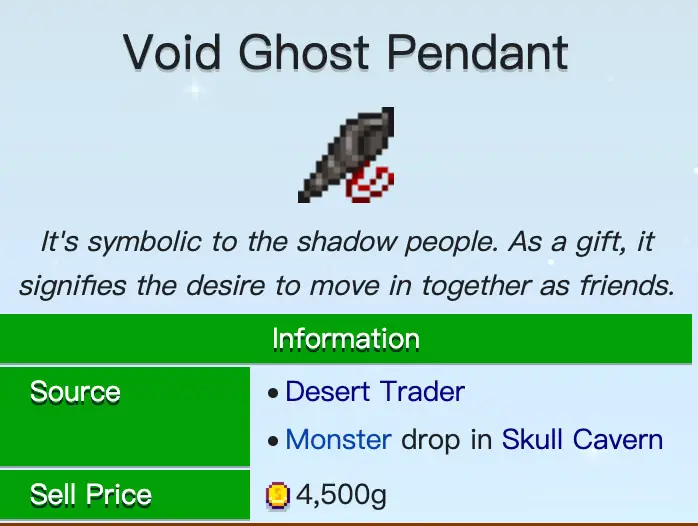 Now let's talk about our platonic love with Krobus. The details are shorter. If we haven't married, we can give Krobus a Void Ghost Pendant to become roommates. The pendant can be purchased from the Desert Trader or obtained as a drop from monsters in the Skull Cavern. Three days after giving the pendant, Krobus will move into the farmhouse and add his room. A treasure chest will appear in the sewer to replace him as a vendor.
Platonic Relationship with Krobus
Our platonic relationship with Krobus is similar to single villagers, and we can also receive a Starfruit at 12.5 hearts. However, there are some differences: there's no wedding ceremony with Krobus, he won't get jealous, there won't be any children or kissing, but hugging is allowed. To "divorce" Krobus, we don't need to spend any money, we can simply ask him to leave(Click at the book in Mayor Lewis' house).
Consequences
One more thing to note: after turning our children into doves, on Halloween, if we turn on the TV, we will see a "???" channel. Clicking on that channel will result in a curse, and every time we enter the Witch's Hut afterward, we will be attacked by a flying Ancient Doll. This seems to be the punishment for abandoning our children.
Conclusion
In summary, relationships in Stardew Valley are complex and involve various aspects like marriage, children, and maintaining good relationships with our spouse and children. It's important to keep these factors in mind while playing to ensure a smooth experience and to avoid potential consequences or penalties.