Hello, friends! After much anticipation, the clothing and outfit guide is finally here. In our previous tutorial, we systematically explained how to craft clothing and dye items in Stardew Valley. In this tutorial, I've prepared over 40 fashionable outfit recommendations for both male and female characters. If you're interested in this guide, let's dive in together.

First, before we discuss outfit combinations, let's talk about how to change your character's appearance after creating a save file. This is essential since different outfits work best with various character appearances. Once you reach a four-heart relationship with the Wizard, you'll unlock the basement of the Wizard's Tower. On the right-hand side, you'll find a shrine which allows you to change your character's appearance. Click on the shrine, and you can spend 500 gold to modify your character's look.

In addition to changing your appearance, you can also change your character's name, favorite items, gender, and the appearance of your pets. However, I don't think gender matters too much, as the clothing system in Stardew Valley is unisex. Both male and female characters can wear any clothing items, so primarily focusing on changing your appearance should be sufficient.
Furthermore, there is an extensive variety of clothing options available in Stardew Valley, which allows for numerous outfit combinations. I'll provide screenshots of the outfits and the materials needed for each outfit below.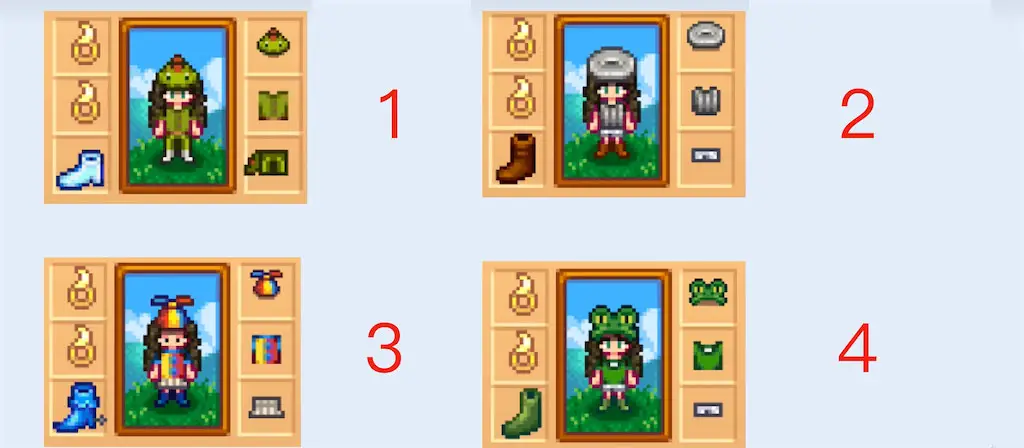 Dinosaur Hat:
Cloth + Dinosaur Egg
Shirt:
Cloth + Crispy Bass
Dinosaur Pants:
Cloth + Dinosaur Mayonnaise
Crystal Shoes:
Dropped from monsters in the Skull Cavern
Trash Hat:
Players have a 0.2% chance to obtain after rummaging through at least 20 trash cans
Trash Can Shirt:
Cloth + Trash/Driftwood/Broken Glasses/Broken CD/Soggy Newspaper
Shorts (need dye):
Cloth + Melon/Blueberry/Hot Pepper/Grape
Leather Boots:
Obtained from the chest at mine level 10
Propeller Hat:
Cloth + Miner's Treat
Jester Shirt:
Cloth + Pyrite
Pleated Skirt (need dye):
Cloth + Poppy/Summer Spangle
Mermaid Boots:
Obtained from rare chests in the Volcano Dungeon
Frog Hat:
Fishing in the frog gourmet cave on Ginger Island
Fishing Vest:
Cloth + Boiled Beet
Shorts (need dye):
Cloth + Melon/Blueberry/Hot Pepper/Grape
Rubber Boots:
Obtained from special slimes on mine levels 1-40 or breaking crates and barrels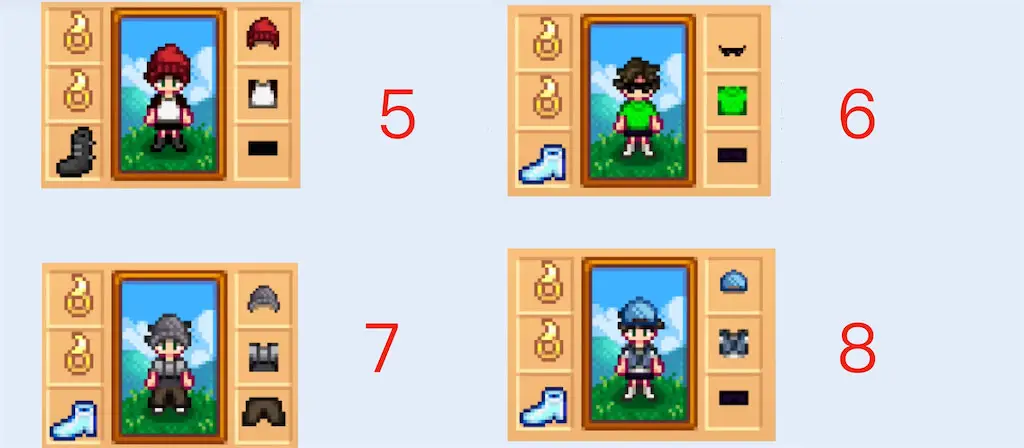 Floppy Beanie:
Cloth + Maple Syrup/Oak Resin/Pine Tar
Sports Shirt (need dye):
Cloth + Juice
Shorts (need dye):
Cloth + Melon/Blueberry/Hot Pepper/Grape
Dark Boots
Available for purchase at the Adventurer's Guild after reaching mine level 80
Sunglasses:
Cloth + Cinder Shard
Turtleneck Sweater:
Cloth + Copper Ore/Iron Ore/Gold Ore
Crystal Shoes:
Dropped from monsters in the Skull Cavern
Beanie:
Cloth + Acorn/Maple Seed/Pine Cone
Shirt:
Cloth + Ghost Crystal
Baggy Pants (need dye):
Cloth + Slime Egg
Crystal Shoes:
Dropped from monsters in the Skull Cavern
Cool Cap:
Unlocked after achieving the "Earn 250,000g" milestone at the Mouse Hat Shop
Cowboy Poncho:
Cloth + Rusty Spur
Shorts (need dye):
Cloth + Melon/Blueberry/Hot Pepper/Grape
Crystal Shoes:
Dropped from monsters in the Skull Cavern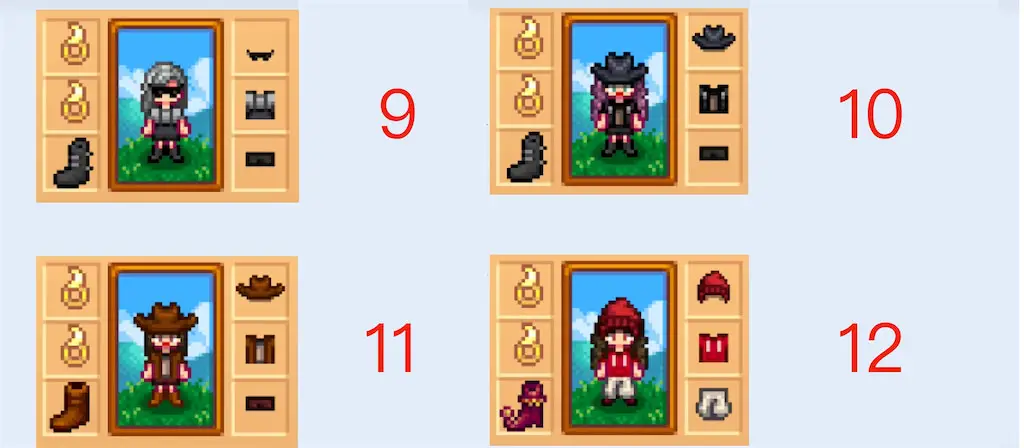 Sunglasses:
Cloth + Cinder Shard
Shirt:
Cloth + Ghost Crystal
Shorts (need dye):
Cloth + Melon/Blueberry/Hot Pepper/Grape
Dark Boots:
Available for purchase at the Adventurer's Guild after reaching mine level 80
Dark Cowboy Hat:
Obtained from the chest floors in the Skull Cavern
Black Leather Jacket:
Cloth + Beer/Wine/Mead/Pale Ale
Shorts (need dye):
Cloth + Melon/Blueberry/Hot Pepper/Grape
Dark Boots:
Available for purchase at the Adventurer's Guild after reaching mine level 80
Cowboy Hat:
Unlocked at the Mouse Hat Shop after completing the museum collection
Stylish Top:
Cloth + Clay
Shorts (need dye):
Cloth + Melon/Blueberry/Hot Pepper/Grape
Leather Boots:
Obtained from the chest at mine level 10
Loose Woolen Hat:
Cloth + Maple Syrup/Oak Resin/Pine Tar
Red Hoodie:
Cloth + Magma Geode
Elf Pants (need dye):
Cloth + Starfruit/Ancient Fruit
Ashen Jester Shoes:
Purchased at the Volcano Dungeon Dwarf Shop for 100 Cinder Shards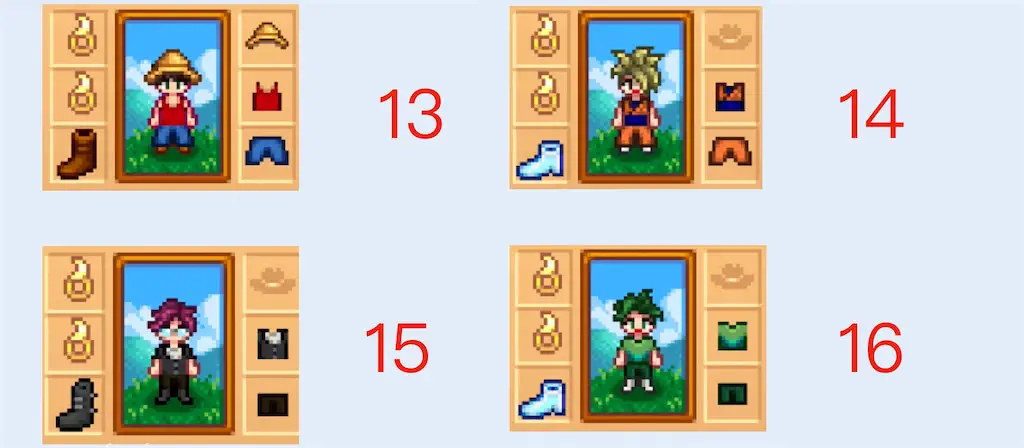 Straw Hat:
Reward for collecting at least 9 colored eggs and winning the Egg Hunt event during Spring Festival
Suspenders Top (need dye):
Cloth + Sea Snail/Coral/Sea Urchin
Loose Pants (need dye):
Cloth + Slime Egg
Leather Boots:
Obtained from the chest at mine level 10
Hairstyle: 9
Orange Martial Arts Suit:
Cloth + Vinegar
Loose Pants (need dye):
Cloth + Slime Egg
Crystal Shoes:
Dropped from monsters in the Skull Cavern
Hairstyle: 74
Dark Silk Scarf Top (need dye):
Cloth + Truffle/Truffle Oil
Farmer Pants (need dye):
Cloth + Cranberry/Strawberry/Wild Plum
Dark Boots:
Available for purchase at the Adventurer's Guild after reaching mine level 80
Hairstyle: 14
Cowboy Cape:
Cloth + Emerald
Farmer Pants (need dye):
Cloth + Cranberry/Strawberry/Wild Plum
Crystal Shoes:
Dropped from monsters in the Skull Cavern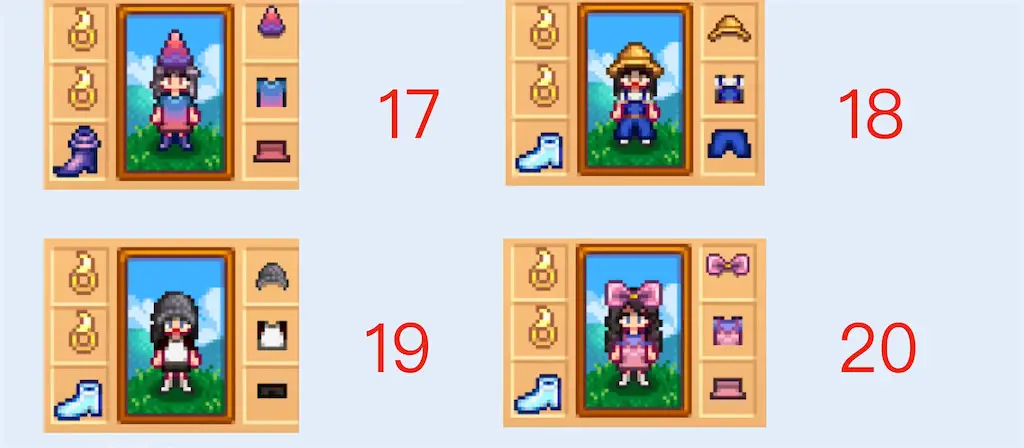 Cone Hat:
Purchase from the Magical Merchant Ship at the Winter Night Market
Sunset T-Shirt:
Cloth + Iridium Yam
Skirt (need dye):
Cloth + Blue Jazz/Tulip
Dragon Scale Boots:
Found in a rare chest in the Volcano Dungeon
Straw Hat:
Reward for collecting at least 9 colored eggs and winning the Egg Hunt event during Spring Festival
White Overalls Top:
Cloth + Egg
Loose Pants (need dye):
Cloth + Slime Egg
Crystal Shoes:
Dropped from monsters in the Skull Cavern
Woolen Hat:
Cloth + Acorn/Maple Seed/Pine Cone
Sports Shirt (need dye):
Cloth + Juice
Shorts (need dye):
Cloth + Melon/Blueberry/Hot Pepper/Grape
Crystal Shoes:
Dropped from monsters in the Skull Cavern
Pink Fish Bow:
The dwarf in the Volcano Dungeon has a 25% chance of selling it each day
Fishing Vest:
Cloth + Sweet Pea
Skirt (need dye):
Cloth + Blue Jazz/Tulip
Crystal Shoes:
Dropped from monsters in the Skull Cavern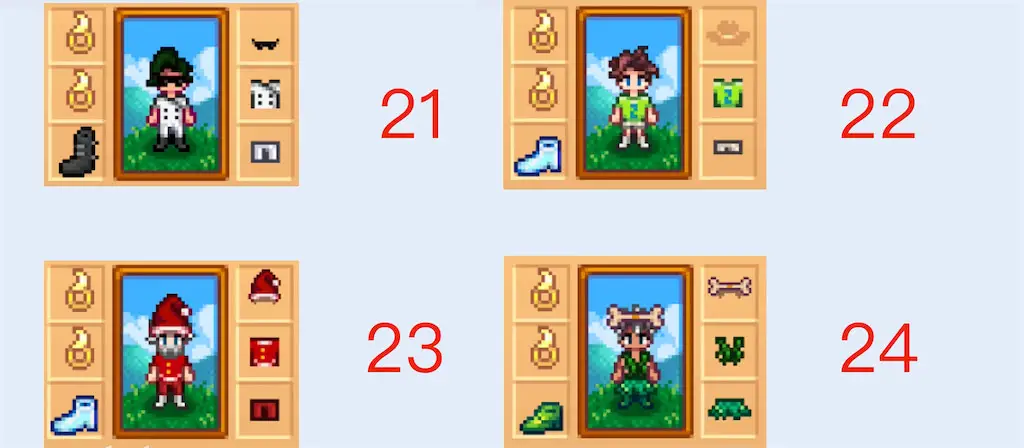 Sunglasses:
Cloth + Cinder Shard
Top:
Cloth + Escargot
Farmer Pants (need dye):
Cloth + Cranberry/Strawberry/Wild Plum
Dark Boots:
Available for purchase at the Adventurer's Guild after reaching mine level 80
Hairstyle: 14
Tunnelers Jersey:
Cloth + Hot Pepper
Shorts (need dye):
Cloth + Melon/Blueberry/Hot Pepper/Grape
Crystal Shoes:
Dropped from monsters in the Skull Cavern
Christmas Hat:
Available for purchase at the Mouse Hat Shop after unlocking the achievement – Reach a 5-heart friendship level with 10 people
Festive Top:
Cloth + Pumpkin Pie
Farmer Pants (need dye):
Cloth + Cranberry/Strawberry/Wild Plum
Crystal Shoes:
Dropped from monsters in the Skull Cavern
Bone Hairpin:
Cloth + Prehistoric Tibia
Cowboy Cape:
Cloth + Seaweed
Hawaiian Grass Skirt:
Purchase from the Ginger Island merchant for 50 Taro Roots
Dwarf Elf Shoes:
Occasionally dropped from passing trains near the Railroad area
Sailor Hat:
Win the fishing competition at the Festival of Ice
Top:
Cloth + Anchor
Farmer Pants (need dye):
Cloth + Cranberry/Strawberry/Wild Plum
Dark Boots:
Available for purchase at the Adventurer's Guild after reaching mine level 80
Round Top Hat:
Unlocked at the Mouse Hat Shop after achieving the 1,000,000 gold milestone
Brown Suit:
Cloth + Crystal Ball
Shorts (need dye):
Cloth + Melon/Blueberry/Hot Pepper/Grape
Dark Boots:
Available for purchase at the Adventurer's Guild after reaching mine level 80
Fishing Hat:
Cloth + Stonefish/Ice Pip/Lava Eel/Woodskip/Void Salmon, etc.
Top:
Cloth + Roasted Hazelnuts
Shorts (need dye):
Cloth + Melon/Blueberry/Hot Pepper/Grape
Rubber Boots:
Obtained from special Slimes, breaking crates, and barrels in mine levels 1-40
Cowboy Hat:
Unlocked at the Mouse Hat Shop after completing the museum collection
Cowboy Cape:
Cloth + Rusted Spurs
Loose Pants (need dye):
Cloth + Slime Egg
Crystal Shoes:
Dropped from monsters in the Skull Cavern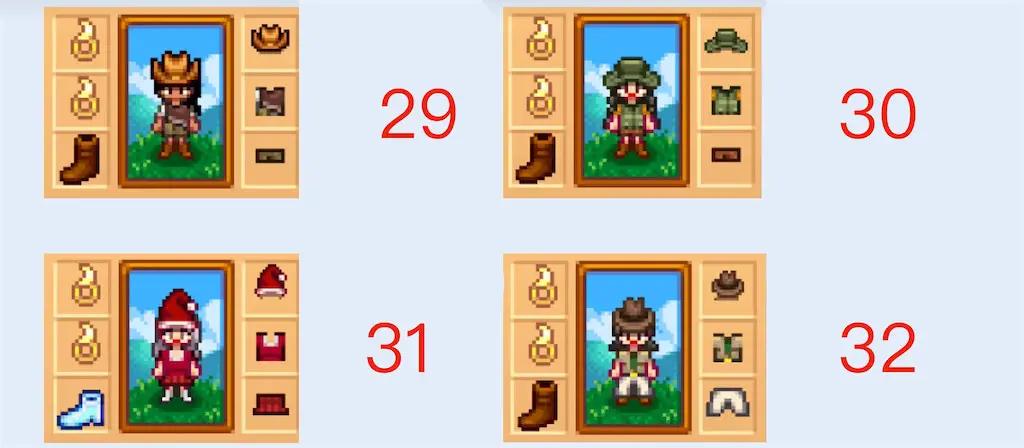 Luxury Cowboy Hat:
Available for purchase from the Ginger Island merchant on Fridays for 30 Taro Roots
Cowboy Cape:
Cloth + Rusted Spurs
Shorts (need dye):
Cloth + Melon/Blueberry/Hot Pepper/Grape
Leather Boots:
Found in a chest on mine level 10
Fish Hat:
Cloth + Stonefish/Ice Pip/Lava Eel/Woodskip/Void Salmon, etc.
Fishing Vest:
Cloth + Carp/Bullhead/Largemouth Bass/Smallmouth Bass, etc.
Shorts (need dye):
Cloth + Melon/Blueberry/Hot Pepper/Grape
Leather Boots:
Found in a chest on mine level 10
Christmas Hat:
Unlocked at the Mouse Hat Shop after reaching a 5-heart friendship level with 10 people
Fashionable Top:
Cloth + Sunstone
Pleated Skirt (need dye):
Cloth + Poppy/Summer Spangle
Crystal Shoes:
Dropped from monsters in the Skull Cavern
Soft Hat:
Available for purchase at the Stardew Valley Fair for 500 Star Tokens
Ranger Uniform:
Cloth + Trout Soup
Loose Pants (need dye):
Cloth + Slime Egg
Leather Boots:
Found in a chest on mine level 10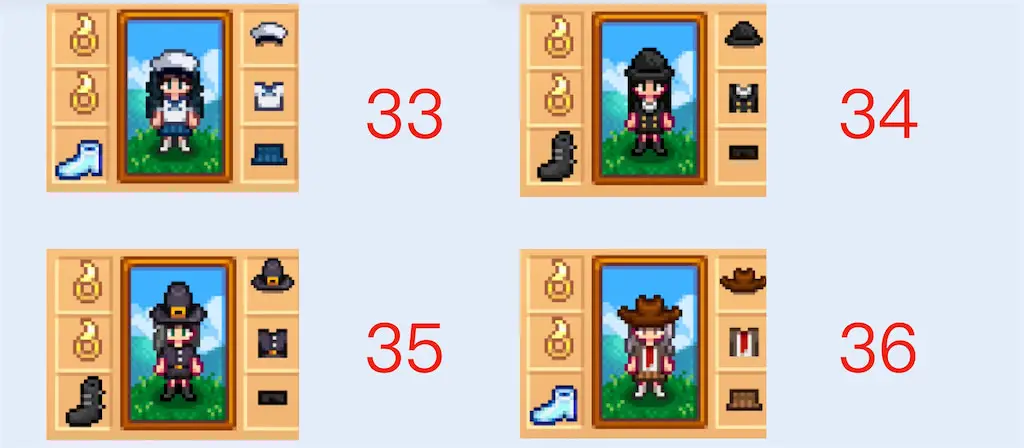 Sailor Hat:
Win the fishing competition at the Festival of Ice
Sailor Outfit:
Cloth + Tilapia/Bluegill/Halibut/Anchovy/Tuna/Sardine, etc.
Pleated Skirt (need dye):
Cloth + Poppy/Summer Spangle
Crystal Shoes:
Dropped from monsters in the Skull Cavern
Round Top Hat:
Unlocked at the Mouse Hat Shop after achieving the 1,000,000 gold milestone
Top:
Cloth + Columnar Basalt
Shorts (need dye):
Cloth + Melon/Blueberry/Hot Pepper/Grape
Dark Boots:
Available for purchase at the Adventurer's Guild after reaching mine level 80
Flat Top Hat:
Cloth + Cranberry Sauce/Stuffed Bread
Belted Coat:
Cloth + Autumn's Bounty
Shorts (need dye):
Cloth + Melon/Blueberry/Hot Pepper/Grape
Dark Boots:
Available for purchase at the Adventurer's Guild after reaching mine level 80
Cowboy Hat:
Unlocked at the Mouse Hat Shop after completing the museum collection
Brown Suit:
Cloth + Ancient Seed
Pleated Skirt (need dye):
Cloth + Poppy/Summer Spangle
Crystal Shoes:
Dropped from monsters in the Skull Cavern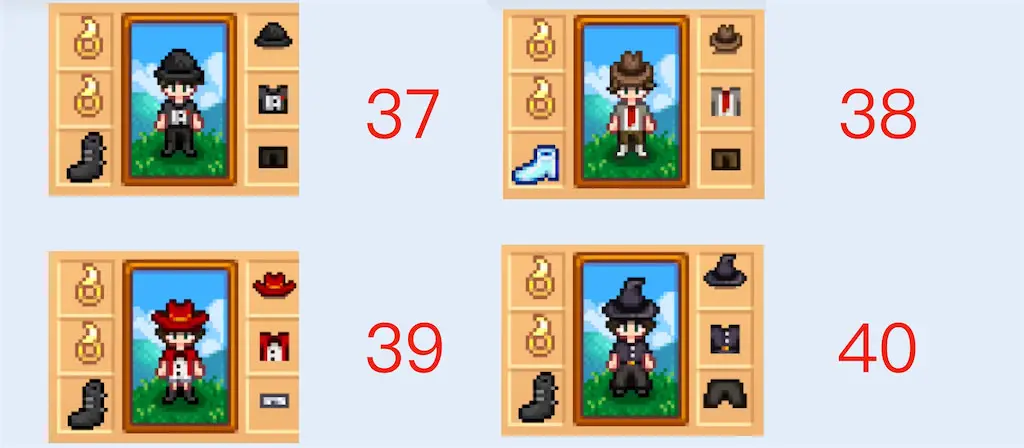 Round Top Hat:
Unlocked at the Mouse Hat Shop after achieving the 1,000,000 gold milestone
Top:
Cloth + Flower Bouquet
Farmer Pants (need dye):
Cloth + Cranberry/Strawberry/Wild Plum
Dark Boots:
Available for purchase at the Adventurer's Guild after reaching mine level 80
Soft Hat:
Available for purchase at the Stardew Valley Fair for 500 Star Tokens
Brown Suit:
Cloth + Ancient Seed
Farmer Pants (need dye):
Cloth + Cranberry/Strawberry/Wild Plum
Crystal Shoes:
Dropped from monsters in the Skull Cavern
Red Cowboy Hat:
Obtained from a random chest level in the Skull Cavern
Jester Top:
Cloth + Red Plate
Shorts (need dye):
Cloth + Melon/Blueberry/Hot Pepper/Grape
Dark Boots:
Available for purchase at the Adventurer's Guild after reaching mine level 80
Witch Hat:
Cloth + Golden Pumpkin
Belted Coat:
Cloth + Autumn's Bounty
Loose Pants (need dye):
Cloth + Slime Egg
Dark Boots:
Available for purchase at the Adventurer's Guild after reaching mine level 80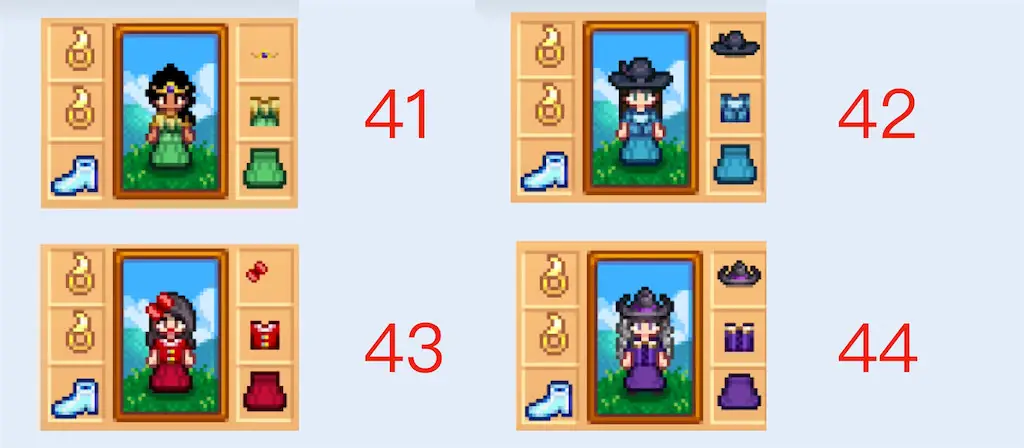 Triple Tiara:
Unlocked at the Mouse Hat Shop after reaching 5-heart friendship with four people
Top:
Cloth + Tom Kha Soup
Long Skirt (need dye):
Cloth + Fairy Rose/Sunflower
Crystal Shoes:
Dropped from monsters in the Skull Cavern
Fashion Hat:
Cloth + Roe (Sturgeon)
Top:
Cloth + Crystal Fruit
Long Skirt (need dye):
Cloth + Fairy Rose/Sunflower
Crystal Shoes:
Dropped from monsters in the Skull Cavern
Bow:
Unlocked at the Mouse Hat Shop after reaching 5-heart friendship with someone
Bright Red Blouse:
Cloth + Holly
Long Skirt (need dye):
Cloth + Fairy Rose/Sunflower
Crystal Shoes:
Dropped from monsters in the Skull Cavern
Mystery Hat:
Obtained at the Adventurer's Guild after killing 100 Mummies
Royal Cape:
Cloth + Ancient Drum
Simple Long Skirt (need dye):
Cloth + Honey (any type)
Crystal Shoes:
Dropped from monsters in the Skull Cavern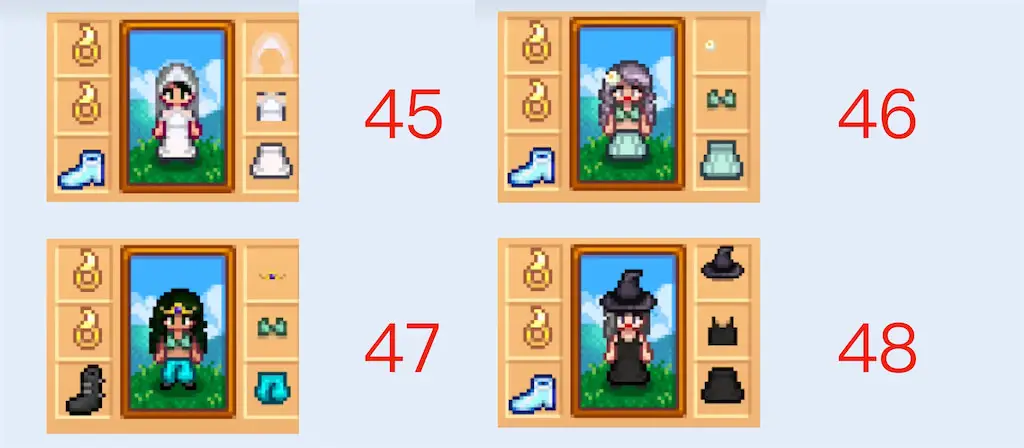 Bridal Veil:
Cloth + Pearl
Bridal Top:
Cloth + Ornamental Fan
Simple Long Skirt (need dye):
Cloth + Honey (any type)
Crystal Shoes:
Dropped from monsters in the Skull Cavern
Daisy Hairpin:
Unlocked at the Mouse Hat Shop after crafting 15 different items
Ginger Island Bikini (need dye):
Cloth + Golden Coconut
Long Skirt (need dye):
Cloth + Fairy Rose/Sunflower
Crystal Shoes:
Dropped from monsters in the Skull Cavern
Triple Tiara:
Unlocked at the Mouse Hat Shop after reaching 5-heart friendship with four people
Ginger Island Bikini (need dye):
Cloth + Golden Coconut
Elf Pants (need dye):
Cloth + Starfruit/Ancient Fruit
Dark Boots:
Available for purchase at the Adventurer's Guild after reaching mine level 80
Witch Hat:
Cloth + Golden Pumpkin
Suspenders Top (need dye):
Cloth + Nautilus Shell/Coral/Sea Urchin
Simple Long Skirt (need dye):
Cloth + Honey (any type)
Crystal Shoes:
Dropped from monsters in the Skull Cavern