Evelyn lived in the village for a lifetime, always being so optimistic and full of hope. "Mommy" spent all her time taking care of the gardens in the village, as well as baking her own specialty cookies and stories of her exciting adventures in stardew valley.
Players usually can find Evelyn in her home kitchen or town center flower garden. Every season's second day, she comes to the hospital to check her health.
Heart Events
4 Hearts
When players arrive at Evelyn's home, they will find her baking cookies. If the player looks closely, they will see that Elsa is offering a cookie to them. Players have two choices: compliment her baking skills, or say that the cookie tastes like ice cream. If the player chooses to compliment her baking skills, they will receive a recipe for the cookies.
7 Hearts
After the seven heart level is reached, Evelyn will send a mail to the player mailing a recipe and some other gifts.
| Image | Item | Description |
| --- | --- | --- |
| | Rice Pudding | I generally don't send my recipes around to people…but considering how much you care about George, I'm going to write this down and send it to you as a show of gratitude. – Evelyn |
| | Chocolate Cake | Hi, dear, hope your farm is running smoothly. I'm sending you some of our kitchen secrets…hoping this won't stay in your inbox. -Evelyn |
| | Bread | Hi, dear, hope your farm is running smoothly. I'm sending you some of our kitchen secrets…hoping this won't stay in your inbox. -Evelyn |
Gifts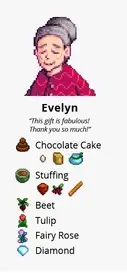 Birthday
Winter 20
Can romance
no
Loves gifts
Diamond, Beet, Chocolate Coke, Fairy Rose, Golden Pumpkin, Pearl, Prismatic Shard, Rabbit's Foot, Tulip, Golden Ocean Flower, Magic Rock Candy, Mixed Berry Pie, Stuffing, Thistle

—-

Likes gifts
Apple, Cheese, Honey, Jelly, Large Milk, Pomegranate, Wine, Algae Soup, Amaranth, Amethyst, Apricot, Aquamarine, Artichoke, Autumn's Bounty. Baked Fish, Bean Hotpot, Beer, Blue Jazz, Bok Choy, Cauliflower, Cherry, Cloth, Cookie, Corn, Crab Cakes, Crispy Bass, Crocus, Daffodil, Dish O' The Sea, Duck Mayonnaise, Earth Crystal, Eggplant, Emerald, Fiddlehead Fern, Fire Quartz, Frozen Tear, Goat Cheese, Goat Milk, Green Bean, lee Cream, Jade, Juice, Role,L. Goat Milk, Life Elixir, Maple Syrup, Mayonnaise, Milk, Miner's Treat, Omelet, Orange, Pale Broth, Pancakes, Parsnip, Peach, Pepper Poppers, Pink Cake, Pizza, Potato, Pumpkin, Pumpkin Pie, Pumpkin Soup, Radish, Red Cabbage, Roosted Hazelnuts, Roots Platter, Ruby, Spaghetti, Summer Spangle, Sunflower, Sweet Peo, Tomato, Topaz, Tortilla, Truffle Oil, Vegetable Medley. Yom, Aged Blue Moon Wine, Aged Roe, Ancient Fiber, Artichoke Dip, Baked Berry Oatmeal, Banana Pudding, Barberry, Big Bark Burger, Blackberry Cobbler, Blueberry Tart, Bruschetta, Butterfish, Carp Surprise, Caviar, Cheese Cauliflower, Chowder, Coffee, Coleslaw, Complete Breakfast, Cranberry Candy, Cranberry Sauce, Dewdrop Berry, Dinosaur Mayonnaise, Eggplant Parmesan, Escargot, Former's Lunch, Ferngill Primrose, Fiddlehead Risotto, Fish Stew, Fish Taco, Flower Cookie, Four Leaf Clover, Fried Calamari, Fried Mushroom, Fruit Salad, Golden Gem, Ginger Ale, Glazed Butterfish, Glazed Yams, Goldenrod, Grampleton Orange Chicken, Green Mushroom, Green Tea, Hashbrowns, Joja Veggie, King Salmon, Lobster Bisque, Lucky Lunch, Mango Sticky Rice, Maple Bar, Mead, Ornate Treasure Chest, Pale Ale, Parsnip Soup, Pickles, Piña Colada, Plum Pudding, Poi, Poppyseed Muffin, Radish Salad, Red Plate, Rhubarb Pie, Rice Pudding, Salad, Salad Berry, Salmon Dinner, Seaweed Salad, Shrimp Cocktail, Squid Ink Ravioli, Stir Fry, Super Meal, Survival Burger, Taro Root, Tom Kha Soup, Triple Shot Espresso, Tropical Curry, Winter Star Rose

—-

Neutral gifts
Blackberry, Chanterelle, Common Mushroom, Ancient Fruit, Blueberry, Bread, Cactus Fruit, Coconut, Cranberries, Crystal Fruit, Dandelion, Duck Egg. Duck Feather, Egg. Egg, Grope, Hazelnut, Hops, Hot Pepper, Large Egg, Large Egg. Leek, Melon, Morel, Nautilus Shell, Purple Mushroom, Rainbow Shell, Rhubarb, Snow Yom, Starfruit, Strawberry, Sweet Gem Berry, Truffle, Wheat, Wild Plum, Winter Root, Wool, Bonano, Blue Moon Wine, Conch, Fried Egg, Ginger, Golden Egg, Joja Berry, Magma Cap, Mango, Mushroom Colony, Ostrich Egg, Pineapple, Roe.Sand Dollar, Squid Ink, Tea Leaves