Have you ever played Stardew Valley Expanded and felt like you've already seen everything the game has to offer? Well, think again! In this article, we will be exploring the top five hidden locations in the game that will take you beyond the beaten path and uncover new secrets.
Before we dive into the locations, let's talk about the importance of these secret spots in Stardew Valley Expanded. These hidden locations not only add an element of surprise and mystery to the game, but also provide players with unique resources, rewards, and challenges. They enhance gameplay and increase player engagement, as players strive to discover every aspect of the game.
The Importance of Secret Locations in Stardew Valley Expanded
Stardew Valley Expanded's hidden areas are vital for surprise. Players must explore the game environment to locate these spots. These locales add adventure to the game.
These hidden areas provide exclusive resources, prizes, and challenges. Players may enhance their gear by finding rare jewels, artifacts, and ores. These secret locations enable users to cultivate crops not accessible in conventional agricultural zones.
Overall, exploring these secret locations is an integral part of Stardew Valley Expanded, and it adds depth to the game.
The Top 5 Hidden Locations in Stardew Valley Expanded
Without further ado, let's explore the top five hidden locations in Stardew Valley Expanded:
Emerald Farm
This secret place is located next to the railroad in the game. The player can't reach here until he clears the jojamart landslide debris in one summer year. This is the home of a hard-working and passionate farmer Susan. Who is passionate about forming and It is the total opposite of jojamart. Many crops are grown here:
Summer: Corn, melons, hops, radishes
Fall: Corn, pumpkins, grapes, yams
Spring: Potatoes, cabbage, green beans, parsnips
Blue Moon Vineyard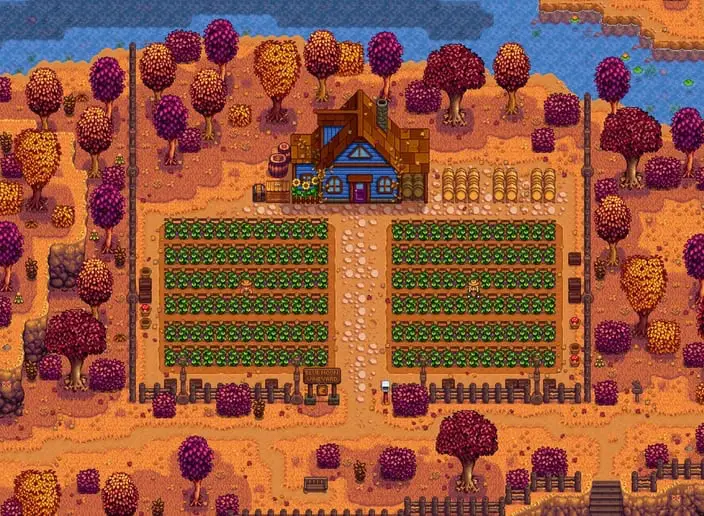 Blue moon vineyard is owned by Sofia and is located between the forest and the beach. Every morning new things are spawned. Players can find different items for their forage Here. Players can find different things in each season:
Spring: Horseradish from the wild, leeks, common mushrooms, dandelion, and daffodil.
Summer: Spice berry, grape, common mushroom, red mushroom, sweet pea
Fall: Morel, blueberry, hazelnut, chanterelle, common mushroom, red mushroom, wild plum and purple mushroom
Winter: Holly, crocus, crystal fruit
There are many rooms here. Clicking on the catalog in one of the rooms will take you to different items such as blue moon wine, aged blue moon wine, and hopefully quality sprinklers.
Enchanted Grove
You may have a hard time finding this place if you haven't been playing the game for a long time. It is situated on the north side of the farm near the Backwood Path. There are many steps to go through to reach this Enchanted Grove place:
You Need to meet Alesia at the Adventurer's Guild
Must Find the Galaxy sward from the Desert.
Complete Clint's task of moving the rock near the Summit.
One has to reach the top of the caldera on Ginger Island.
Complete all three quests done by Magnus
Dewdrop Berries grow here on the first and fourteenth of each season.
Old Master Cannoli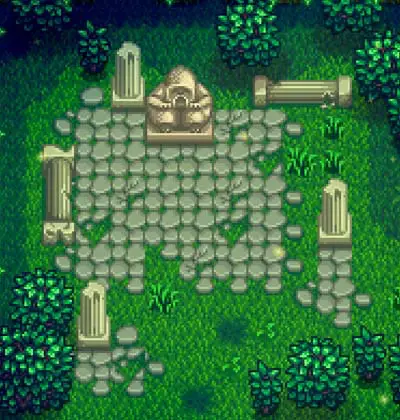 This is a stone statue found in the Secret Wood Which is located at the very top left corner. In the northern part of Cindersap Forest, players can access this location by repairing the bridge in the western part of the forest. Here, players can gather hardwood, mushrooms, and other valuable resources. If the player can grow a specific amount of sweet gem berries.in return for Gem Barry will be rewarded with the following:
Stardrop
Maximize Your Energy
Boost your experience point
Fairhaven Farm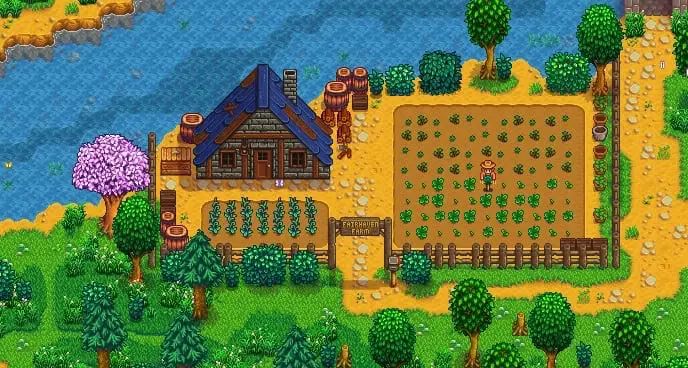 It is the home of the lone wolf Andy supporting Joja. The Fairhaven Farm can be found just half below the Cindersnap Forest. It is a struggling farm but some crops are withered you can get some things from here including:
Spring: Potatoes, strawberries, green beans
Summer: Corn, tomatoes, hops
Fall: Corn, eggplant, grapes
Andy's house can be improved if you fix the community center or help to improve the Joga Mart town.
Stardew Valley Expanded has many hidden secrets, and players who are willing to explore the game can discover rare items, resources, and locations.
Additional Resources for Exploring Hidden Locations in Stardew Valley Expanded
Whether you're a seasoned player or just starting, there are plenty of resources available to help you find these hidden gems. However, you must need mod updates If you're using the old version of the game.
Here are some additional resources to help you discover the top five secret locations in Stardew Valley Expanded:
Stardew Valley Wiki: The Stardew Valley Wiki is a comprehensive resource for all things Stardew Valley, including information on hidden locations, how to access them, and what you can expect to find there.
Reddit: Stardew Valley enthusiasts may give hidden location hints on the subreddit. Players discuss hidden places in forums.
Conclusion
In conclusion, Stardew Valley is a game that offers a wealth of hidden locations for players to discover. These locations enhance gameplay and offer a variety of rewards and challenges. By using online resources and following the tips and tricks outlined in this blog post, players can improve their gameplay experience and discover even more hidden secrets in the game. So, go ahead and explore the Unseen locations in Stardew Valley Expanded and share your experiences with other players!