Welcome, fellow Stardew Valley enthusiasts! In this comprehensive guide, we will explore the greenhouse layout, recommend crops and fruit trees, and discuss the benefits of fertilizers. If you're interested in optimizing your greenhouse, read on!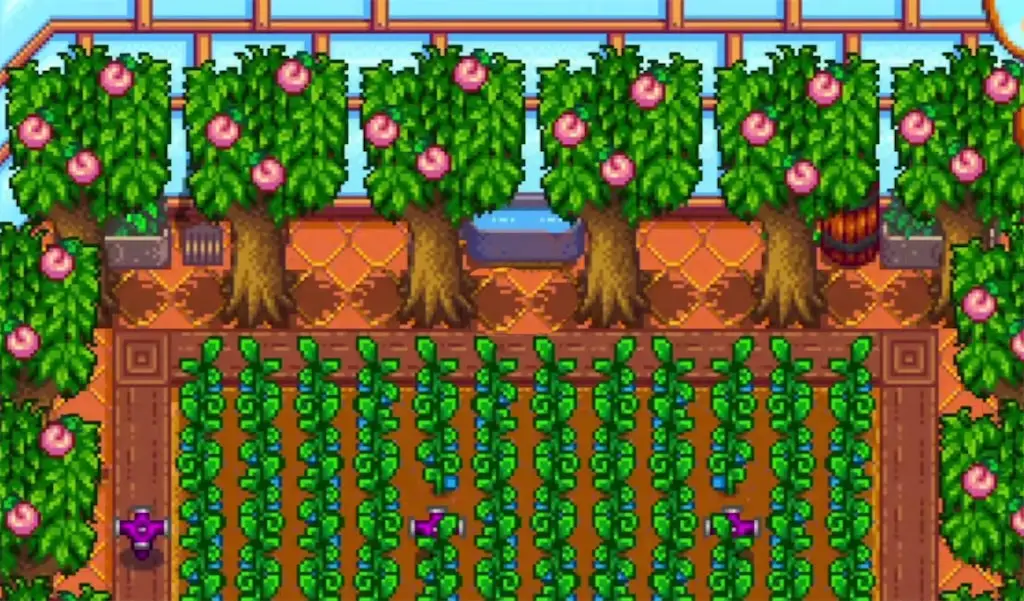 The Greenhouse: An Overview
The greenhouse is a building in Stardew Valley that initially appears in a broken state. You can restore it by completing the community center's Pantry bundle or by spending money on the Joja Community Development Form. The greenhouse has 120 plots for planting crops and a water trough for irrigation. The surrounding area is suitable for planting fruit trees. Crops and fruit trees grown in the greenhouse are not affected by seasonal restrictions and will never be struck by lightning. However, bee houses do not produce honey in the greenhouse, so it's best to place them outdoors.
Unlocking the Greenhouse
Ideally, you should unlock the greenhouse before the first winter to ensure you can grow crops during the cold season. There are no restrictions for players following the Joja route, but those on the Community Center path must plan carefully. The Pantry bundle consists of six sub-bundles: Spring, Summer, Fall, Quality Crops, Animal, and Artisan. The specific items required for each bundle can be found in the screenshot below.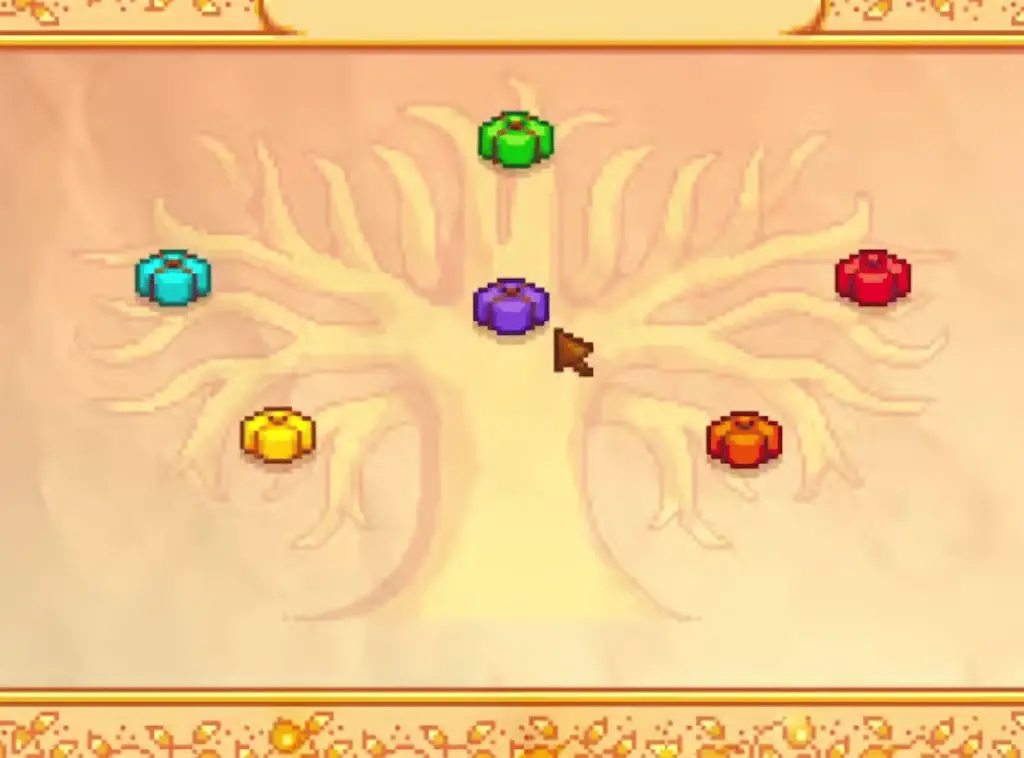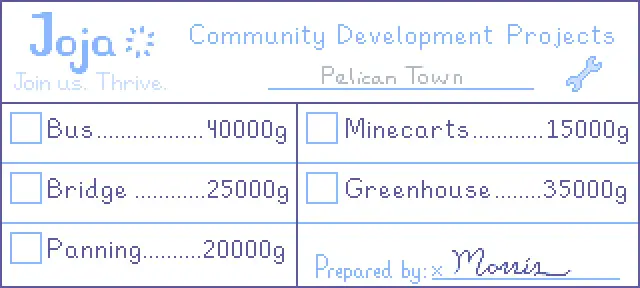 Greenhouse Layout: Sprinklers and Fruit Trees
Sprinklers
When planning your greenhouse layout, it's crucial to consider sprinklers. Lower-tier sprinklers are not recommended due to their inefficient use of space. Instead, consider three different layouts:
16 Quality Sprinklers

One layout option is to use 16 Quality Sprinklers.

6 Iridium Sprinklers

Another layout option is to use 6 Iridium Sprinklers.

A combination of 4 Iridium Sprinklers and 6 Quality Sprinklers

A third layout option is to use a combination of 4 Iridium Sprinklers and 6 Quality Sprinklers.
Fruit Trees
There are two ways to arrange fruit trees in the greenhouse: around the outer perimeter or in the center. The choice comes down to personal preference and aesthetics. When planting fruit trees, ensure they have a 3×3 area with no obstructions in the surrounding eight tiles. Greenhouse walls and decorations do not affect tree growth.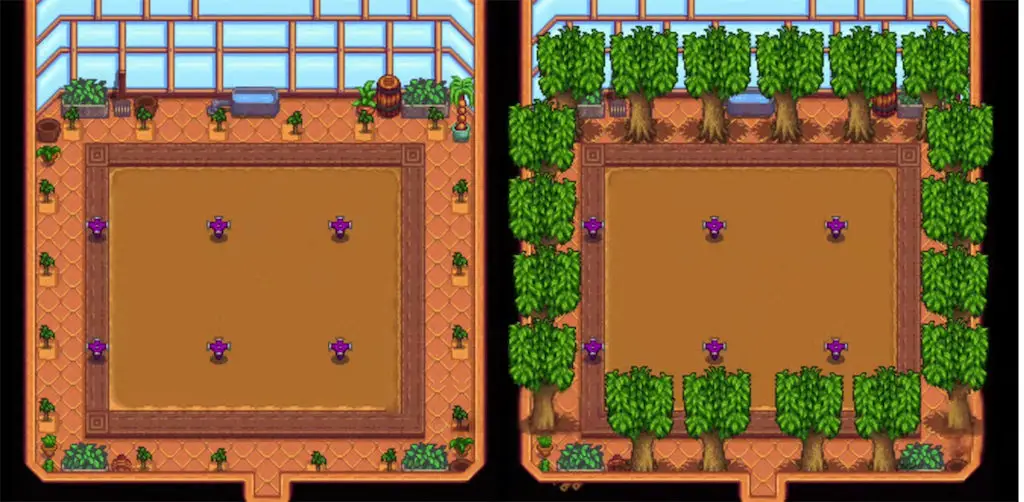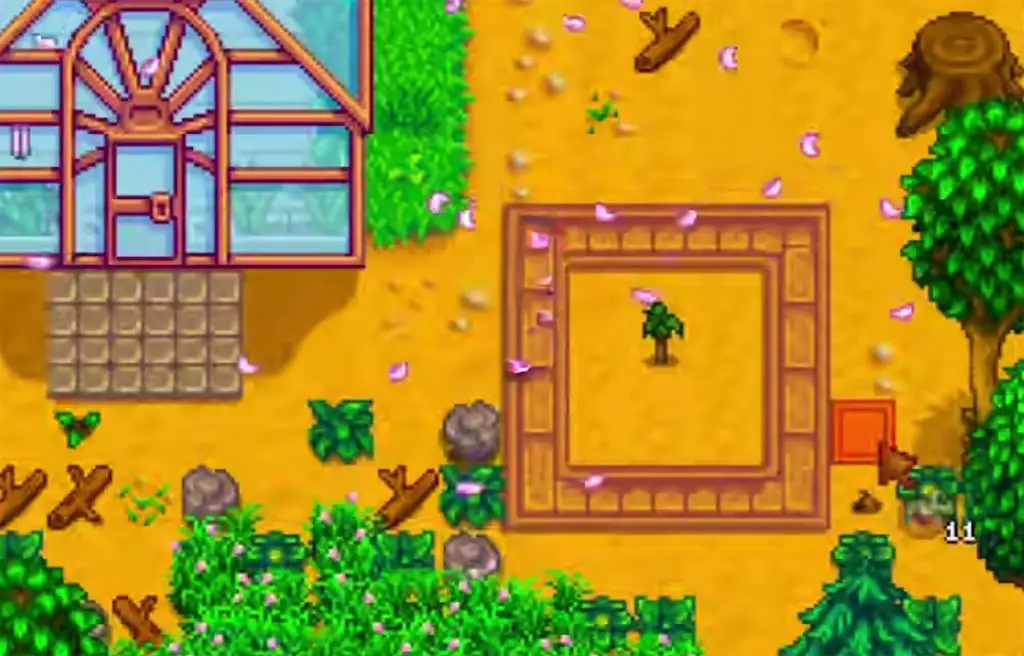 Carefully consider the distance between fruit trees and sprinklers when planning your greenhouse layout. It's generally best to place sprinklers two tiles away from trees. Sprinklers placed along the edge may hinder tree growth, so wait until the trees are fully grown before installing edge sprinklers.
Recommended Crops and Fertilizers
Fertilizers
Before planting crops in the greenhouse, lay down some fertilizer. Fertilizer will remain active until you remove it, so spread some growth hormone (Speed-Gro) on the soil first. A useful tip is to buy Deluxe Speed-Gro from Sandy's shop in the desert on Thursdays for 80g, half the price of Pierre's (150g). Purchase 120 units for roughly 10,000g – a great investment!
Fruit Trees
For fruit trees, it's recommended to plant one of each type and then fill the remaining space with peach or pomegranate trees. These trees are the most profitable due to their higher base value and processed goods. If you wish to achieve 100% completion and haven't unlocked the fruit bat cave, plant one of each tree type to complete the collection tasks and make jams with the rest.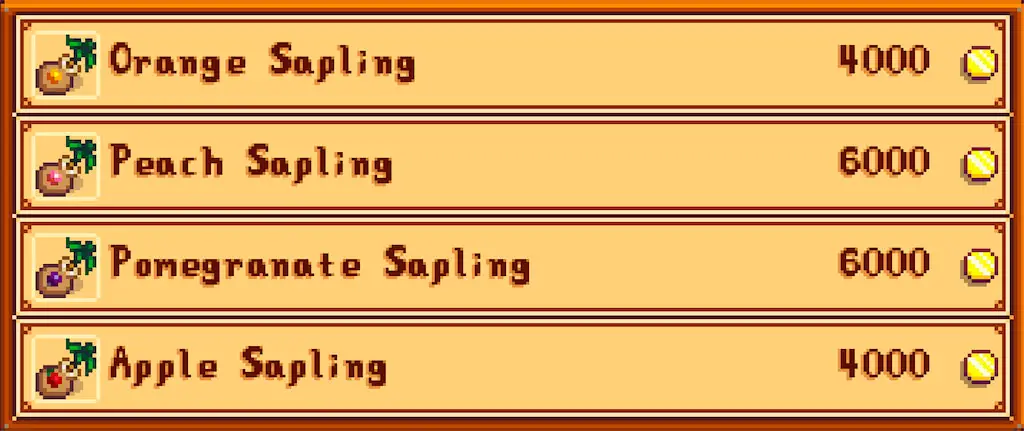 Crops
When it comes to greenhouse crops, there are no absolute rules. Many players choose to focus on winemaking, so planting ancient fruit and starfruit is recommended. However, you can plant other crops if you need them. A suggested approach is to plant a combination of ancient seeds and starfruit early on, eventually transitioning to only ancient seeds.
Ancient seeds can grow in spring, summer, and fall, with a growth cycle of 28 days and maturing every seven days. They will wither during winter. Planting them in the greenhouse ensures continuous production without replanting. If you're fortunate enough to acquire ancient seeds during spring and summer, donate them to the museum to obtain ancient fruit seeds. Plant them as soon as possible to produce ancient fruit before winter. Once you have a seed maker, you can convert the ancient fruit into seeds for storage.
After unlocking the greenhouse, plant all available ancient fruit seeds. Without exploiting game mechanics or cheating, it's unlikely you'll have enough ancient fruit seeds to fill the greenhouse at first. Use the remaining space for starfruit or other crops, converting the harvested ancient fruit into seeds to gradually fill the greenhouse. Ancient fruit is recommended because, once the greenhouse is unlocked, Ginger Island is usually not far away. With the additional farmland on Ginger Island, you'll likely spend less time managing the greenhouse. Planting ancient fruit in the greenhouse simplifies harvesting and saves time compared to replanting starfruit.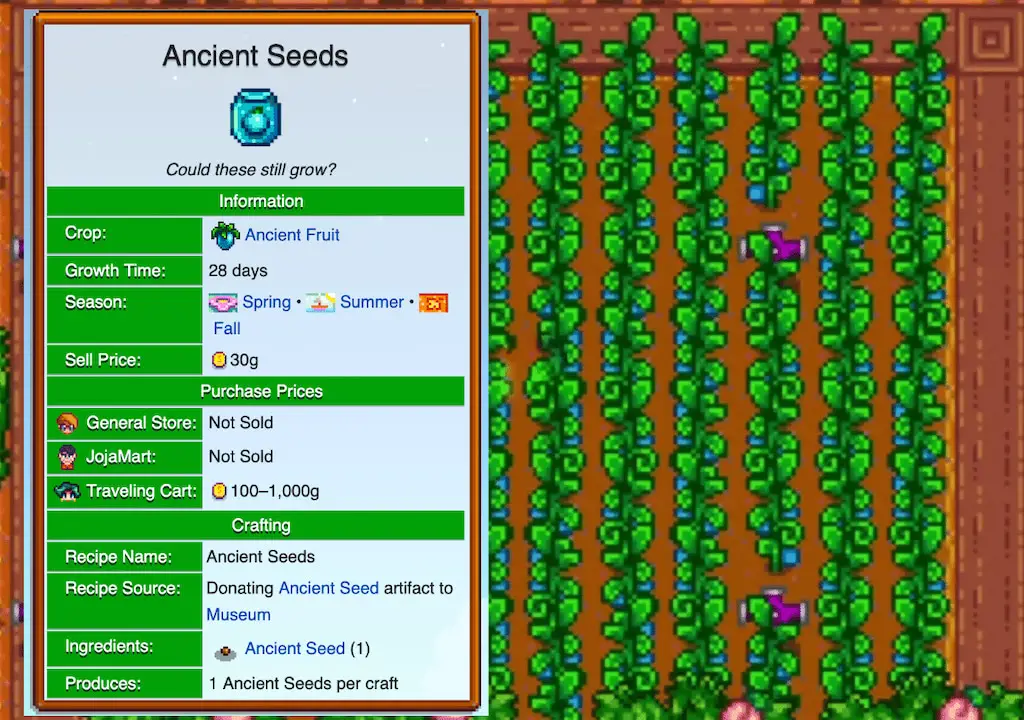 Conclusion
Optimizing your greenhouse in Stardew Valley can be an enjoyable and rewarding experience. By carefully planning your layout, choosing the most profitable crops and fruit trees, and using fertilizers wisely, you'll maximize the potential of your greenhouse. Remember, there are no strict rules for what to plant, so feel free to personalize your greenhouse and have fun!