The season of falling leaves and pumpkin spice has arrived, and with it comes Stardew Valley's Spirit's Eve celebration. This in-game event mirrors our real-world Halloween and is an opportunity for the town's villagers to don costumes that range from the humorous to the truly inventive. Stardew's modding community has expanded this concept to even greater heights, adding new layers of customization that bring a unique twist to the traditional event.
Spirit's Eve and the Modding Community
Spirit's Eve celebrations can be taken to the next level with a plethora of mods available on various platforms like Nexus, ModDrop, Github, and Naver. For example, the Seasonal Villager Outfits mod provides new content that revitalizes the villagers with stylish seasonal wear.

While modding can provide fresh and entertaining takes, not all are received with universal acclaim. Some in the community have shown their dislike for mods that add non-vanilla characters, such as Sophia from the expanded mod.
The Villager Fashion Show
In a showcase that would make even the Met Gala jealous, Stardew's villagers don elaborate costumes that perfectly suit their personalities. Elliott steals the show as the Mad Hatter, a look that had one fan claim their soul had left their body. On the other hand, Shane seems to be clad in an old high school shirt, bringing a relatable yet lackluster approach to the table.
Couple costumes make an appearance too, with Robin and Demetrius creatively opting for Frankenstein's Monster and his Bride. For those in the know, some costumes like Maru and Sebastian, hint at deeper stories—Is Maru the 'victim' to Sebastian's 'vampire'?
Pop Culture Galore
The community has thrown in a smorgasbord of pop culture references that keep the Spirit's Eve mood both festive and contemporary. Fancy seeing a villager dressed as Boy George or Hugh Hefner? It's all possible in Stardew Valley's Spirit's Eve. From Lord Palpatine to Popeye and Olive Oyl, the list is endless and often hilarious.
Where to Find Costume Pieces
Many users wonder where to get the vital pieces for these costumes. Cowboy boots and knight helmets, among others, can be typically acquired through normal gameplay. Specific items like the knight helmet can be found at the Adventurer's Guild or even through tailoring. Hat Mouse is another source for quirky additions to your Spirit's Eve attire.
Here are some outfit combinations: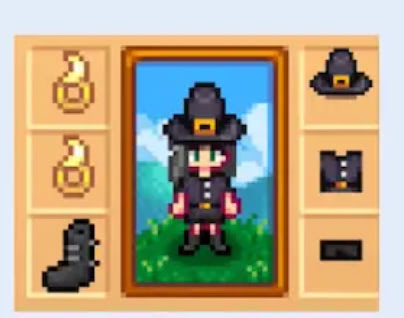 Flat Top Hat:
Cloth + Cranberry Sauce/Stuffed Bread
Belted Coat:
Cloth + Autumn's Bounty
Shorts (need dye):
Cloth + Melon/Blueberry/Hot Pepper/Grape
Dark Boots:
Available for purchase at the Adventurer's Guild after reaching mine level 80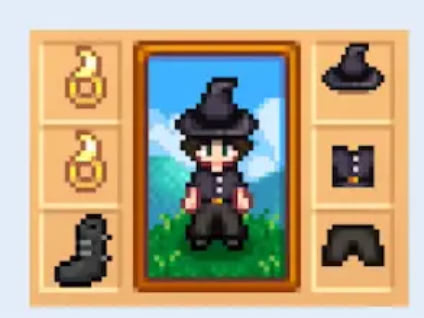 Witch Hat:
Cloth + Golden Pumpkin
Belted Coat:
Cloth + Autumn's Bounty
Loose Pants (need dye):
Cloth + Slime Egg
Dark Boots:
Available for purchase at the Adventurer's Guild after reaching mine level 80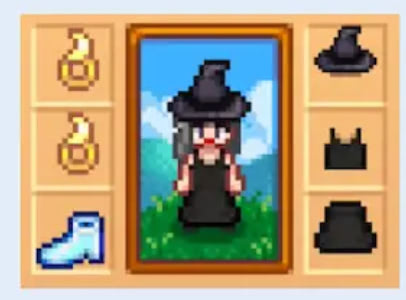 Witch Hat:
Cloth + Golden Pumpkin
Suspenders Top (need dye):
Cloth + Nautilus Shell/Coral/Sea Urchin
Simple Long Skirt (need dye):
Cloth + Honey (any type)
Crystal Shoes:
Dropped from monsters in the Skull Cavern
Comparison to Other Games
What sets Stardew Valley's Spirit's Eve apart from holiday events in other games is the amount of personalization and community involvement. While other games may offer themed loot or decorations, the level of detail in Stardew's costumes, made both by the game's creators and its modding community, sets a new standard.
Conclusion
Stardew Valley's Spirit's Eve is more than just an in-game holiday; it's a communal celebration of creativity, style, and a shared love for the game. Whether you prefer the vanilla experience or want to spice things up with mods, there's something in Spirit's Eve for everyone. So, let your farming tools rest for a day, and join the villagers in celebrating the spookiest night in Stardew Valley.
Whether you're a vanilla purist or a mod enthusiast, Stardew Valley's Spirit's Eve provides an all-encompassing experience that lets each player celebrate in their own way. So grab your best costume and join in on the fun!