Are you a Stardew Valley enthusiast who loves delving into the secrets and intricacies of the game? Have you been itching to find out more about the casino in the Desert Oasis Shop? You're in the right place! Today, we're dissecting the fascinating world of Slot Machines within Stardew Valley's hidden casino.
Accessing the Casino
Before you can try your luck on the slots, you'll need to gain access to the Casino located in the Desert Oasis Shop. An enigmatic Qi Quest must be completed first; otherwise, you'll find a bouncer standing guard, preventing your entry. After successfully completing the quest and obtaining a Casino Membership Card, you can interact with the guard who will then vanish, allowing you to freely explore the casino.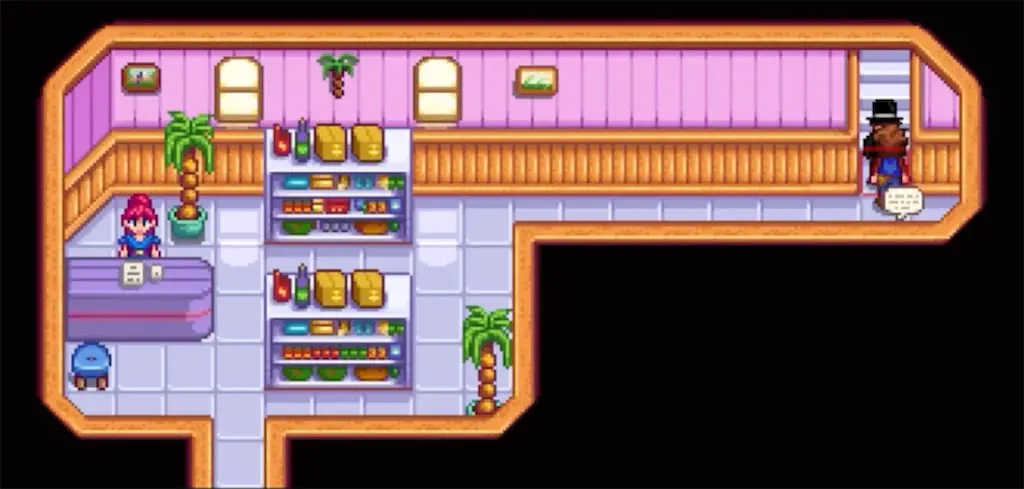 Inside the Casino
Once inside, you'll find there are two ways to gamble: Slot Machines and Blackjack. Located on the right side of the casino, you'll see five Slot Machines. Four of these machines are available to the player, but one is perpetually occupied by a rotund NPC, reminiscent of the guy who hogs the claw machine at the movie theater.
The Slot Machine Gameplay
Interacting with any of the Slot Machines takes you to a mini-game interface. Here, you can choose to bet either 10 or 100 Qi coins. Once you've placed your bet, the game will automatically start. The reels will halt one by one, beginning with the leftmost reel.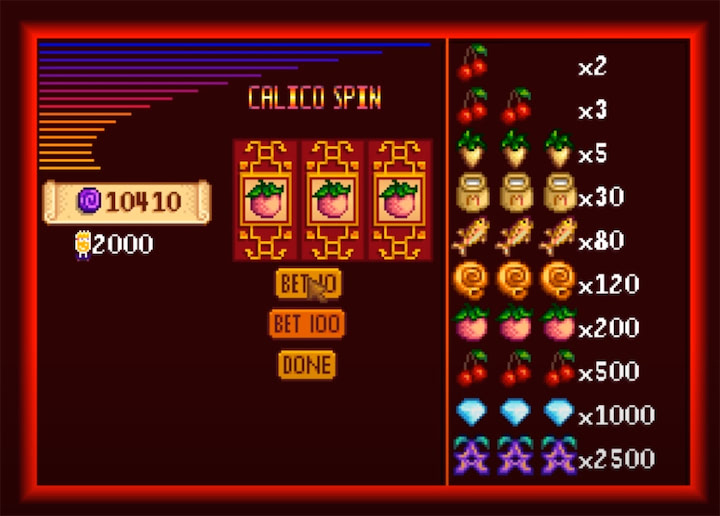 Winnings Reference
On the right side of the screen, you'll find reference images showing various winning combinations. Winning patterns will be automatically identified, and winnings will be granted accordingly. The game is quite straightforward, and you don't need to keep a keen eye on the reference images since the outcome is predetermined as soon as you place your bet.
Odds and Winning Combinations
Let's discuss the odds and the multipliers in a situation where daily luck is zero, and there are no additional luck buffs:
Cherry: 20% chance, 2x multiplier
Two Cherries: 10% chance, 3x multiplier
Three Daffodils: 8% chance, 5x multiplier
Three Milk: 1% chance, 30x multiplier
Three Fish: 0.3% chance, 80x multiplier
Three Periwinkle: 0.2% chance, 120x multiplier
Three Melons: 0.25% chance, 200x multiplier
Three Diamonds: 0.06% chance, 1000x multiplier
Three Starfruit: 0.1% chance, 2500x multiplier
The Role of Luck
In Stardew Valley, your daily luck and luck buffs significantly affect your odds. The formula for calculating your winning odds is 1 + (Daily Luck x 2) + (Luck Buff x 0.08). Daily Luck can range from -20% to 25%, and Luck Buffs from food or rings can add an additional 0% to 72%.
Theoretical Returns
Even under the worst conditions with -0.1 daily luck and no luck buffs, your expected return is 3.776 times your bet. In the best-case scenario, wearing luck-boosting items like Lucky Rings and consuming special items like Magic Rock Candy can escalate your expected return to a staggering 10.7609 times your bet!
Conclusion
So, if you've got some time to spare, head over to the Stardew Valley Casino and try your luck at the Slot Machines. Armed with knowledge and perhaps a Lucky Ring or two, you might just hit the jackpot!
Remember, the game is continually being updated, so it's always good to keep an eye out for any changes to the Casino mechanics. Happy farming and good luck gambling!