With the Stardew Valley Expanded mod comes a significant number of new locations you can explore. I already covered Crimson Badlands, and today you will learn about an old abandoned Aurora Vineyard that is full of mysteries.
It's located southwest of the Cindersap Forest, and you can find it immediately because it isn't locked. However, there are some requirements that you have to meet in order to trigger the quest and make progress with this addition, and today I will provide a helpful guide for achieving that.
With that being said, keep in mind that this article contains heavy spoilers.
The Exact Location of Aurora Vineyard
To reach Aurora Vineyard, go south of the Wizard's Tower. There you will see a path on your left.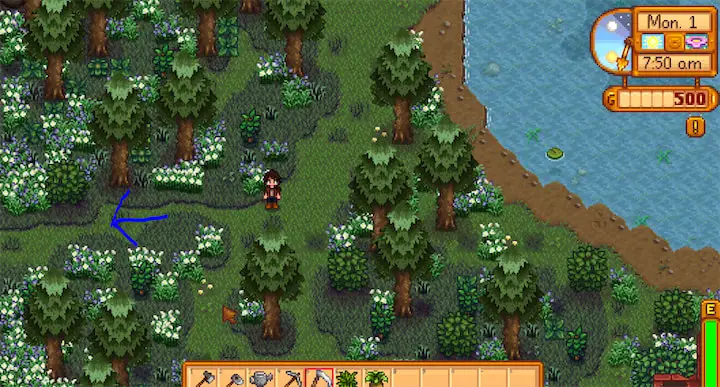 Follow it, and soon you'll enter a new forest area that you can freely explore. It's full of foraging items and weed that you can cut in Fall to get some hay. From there, just keep going left, and soon you will reach an old fence. As you go through it, head north, and that's where Aurora Vineyard lies.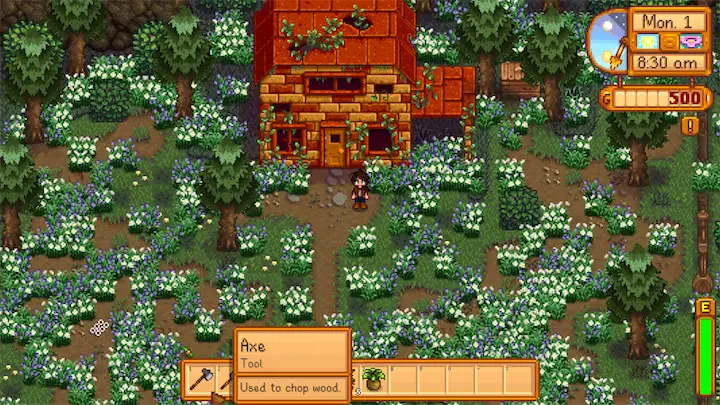 Also, here is the exact location on the map. If NPC icons on my map confuse you, they are there because I use the NPC Map Location mod by Bouhum and Pathoschild.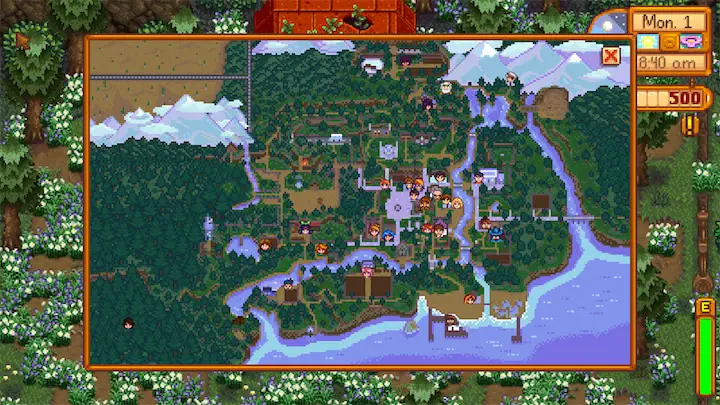 What Can You Find in Aurora Vineyard
As you can see and will see, the place is really abandoned and withered. The interior is full of cobwebs, and everything is ruined or rotten.
You can find and read a ripped piece of newspaper in the kitchen at the back corner of the vineyard. It will reveal that the Vineyard has gone bankrupt for some reason. The previous owners left soon after the doom that came, and sadly they do not appear in the game.
However, even if the place looks this ruined, you'll be able to restore it by completing a certain quest.
Triggering the Aurora Vineyard Quest
A few requirements must be met in order to trigger the quest regarding the abandoned vineyard.
You need to play for at least 138 in-game days, or in other words, you will have to reach the summer of the second year.
You must complete the Community Center and enter Junimo Woods from a warp field that will appear in the forest.
From there, you'll have two choices. To fulfill the quest with Junimo or to side with Joja and Morris.
Completing the Aurora Vineyard Quest
If you decide to take Joja's path, you'll have to prepare a nice amount of money to buy the Aurora Vineyard property deed. This way is faster, but you will have to pay five million gold, and no, that wasn't a typo. So after you spend your whole life savings to get the deed, you'll have to bring it to Morris the next day, and Aurora Vineyard will officially be yours. However, trust me when I say it's not worth it at all, except if you are in your 5th year and earn half a million gold on regular days.
So my advice is to stick with Junimos and be the friend of the forest.
After you meet the requirements I listed, you will find a golden scroll inside Aurora Vineyard. To complete it, you will have to donate two hundred star-fruits, and in exchange, you will get a new friend, a cute Jinmo called apples. From there, you will have to work on your friendship and max it out in order to fully renovate the Aurora Vineyard.
What Apples Love and Likes
You will have to give a bunch of gifts to Apples, so I'll list those which he loves and likes.
The only gift that Apples loves is Starfruit. Universal gifts don't apply to him at all, which is not so bad because you can grow Starfruits easily in your greenhouse or on your farm on Ginger Island if you start this quest during Spring, Fall, or Winter.
Apples likes: Golden Pumpkin, Magic Rock Candy, Pearl, Rabbit's Foot, Prismatic Shard, Starfruit Seeds, Ancient Fruit, Sweet Gem Berry, Star Shards, Duck Feather, Rainbow Shell, Nautilus Shell, Blue Moon Wine, Aged Blue Moon Wine, Armor Elixir, Haste Elixir, Hero Elixir.
For some reason, a certain number of players goes with a strategy of gifting Starfruit Seeds to make the whole thing quicker. However, that's a waste of money, even if it's faster, so I don't recommend that Strategy.
Review and Analysis of Aurora Vineyard
When you finally restore this poor building, you will be able to use it for farming. You can make your vineyard, but sadly grapes only grow during fall so they will be there during one season only.
There isn't an option to instantly teleport like on Ginger Island farm, so constantly traveling there and backward can be time-consuming. However, if you place some sprinklers and scarecrows, you will only need to visit it twice. Once to plant crops and once to harvest them.
Another thing. You can't decorate the floors or the walls of your new building, so forget about pictures, rugs, etc. You can add furniture and path tiles only. Also, there is no working kitchen or fridge.
That's a minus, but hey; you can make a new friend and have more planting space.
In the end, it's for you to decide if it's worth it. From my point of view, it definitely is because it's fun. Everyone is different, and that's okay. Either way, it's not worth five million gold, and it's best to side with Apples and restore the place slowly.
Conclusion
With all being said, Aurora Vineyard is a cool and creative addition to the game. Even if it's not worth it, we can agree that it adds more variety and lore to the game, making it more enjoyable and expanding.