Many new players find it overwhelming when they first start playing Stardew Valley and see that there are seven different farm types to choose from. In this guide, I have compiled a ranking of the most beginner-friendly farm types in Stardew Valley along with their features. If you're interested, let's dive in.
Currently, there are seven farm types in Stardew Valley:
Standard
Riverland
Forest
Hill-top
Wilderness
Four Corners
Beach, each with unique features.
Please note that this ranking represents my personal opinion. If you have your own thoughts or would like to recommend a specific farm, feel free to discuss it in the comments section.
First, I highly recommend the Forest Farm.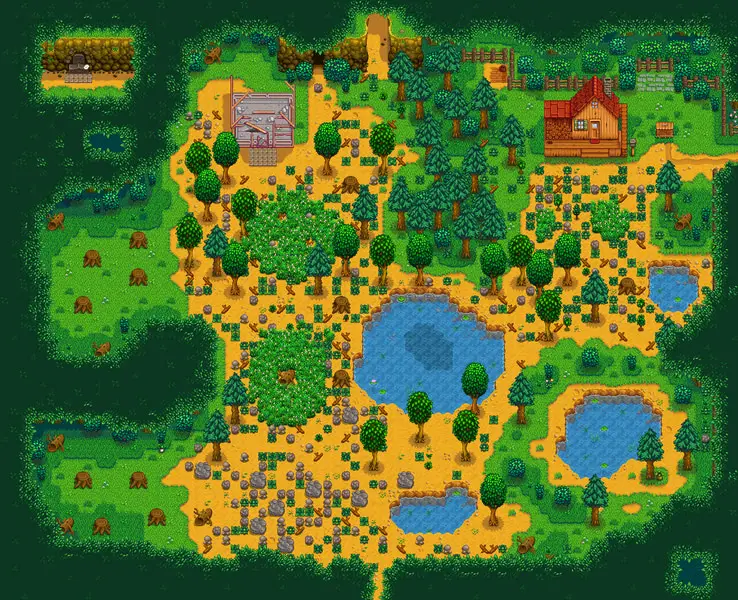 It's visually appealing and one of my personal favorites. It shares some features with the Secret Woods but without the slimes. The farm has eight fixed hardwood respawning points and foraging areas, allowing you to accumulate large amounts of wood and hardwood early in the game. You can also forage for mushrooms and other items. As for the cave, you can choose the fruit bat cave to complete the Community Center bundles earlier and unlock the greenhouse and Ginger Island forest farm. You can also fish for Woodskip in the pond, with a base chance of 5% which varies with daily luck. However, food and ring luck bonuses do not apply here. The downside of the Forest Farm is its small farming area, but this shouldn't be a significant issue, as other areas can be used for raising pigs or brewing. Once you have accumulated enough resources, you can start farming on Ginger Island and in the greenhouse.
Suggest Forest Farm Layout: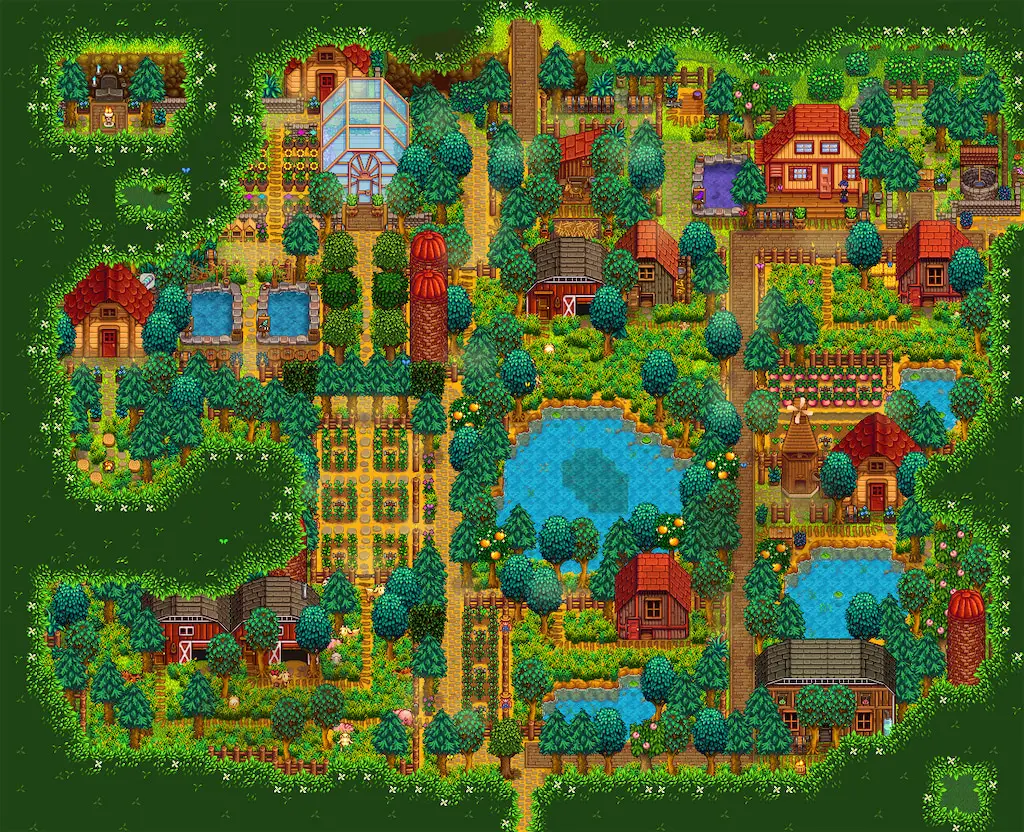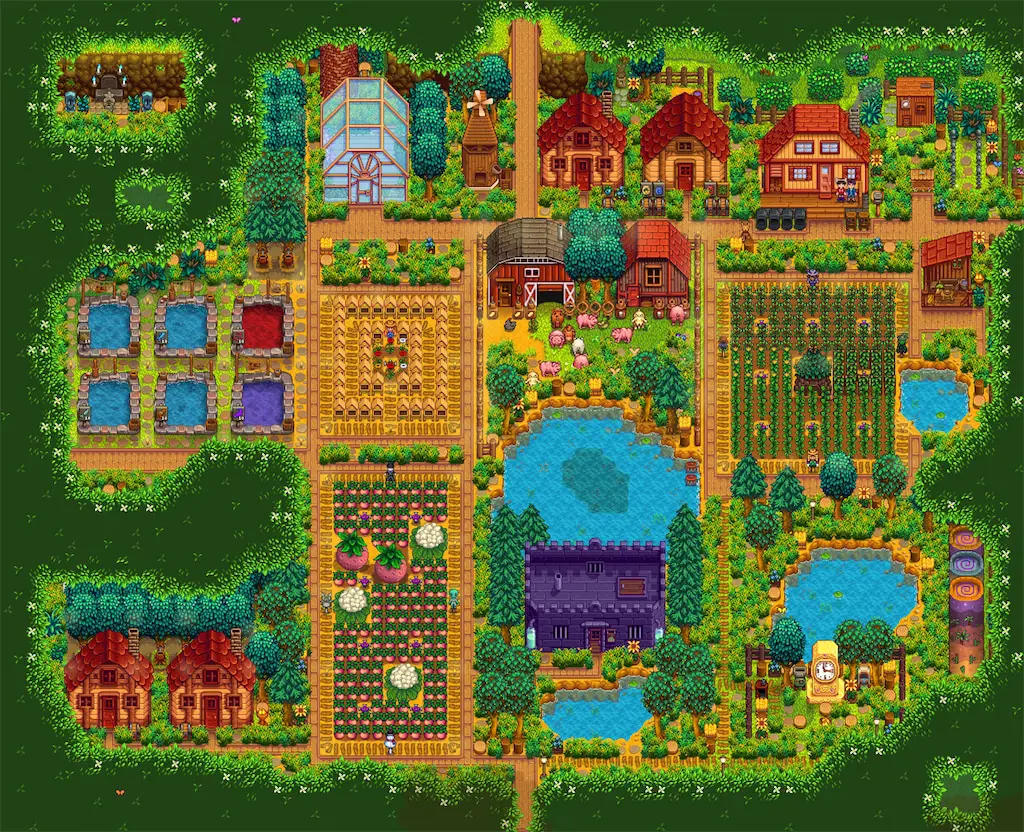 Second, I believe the Standard Farm is a great option.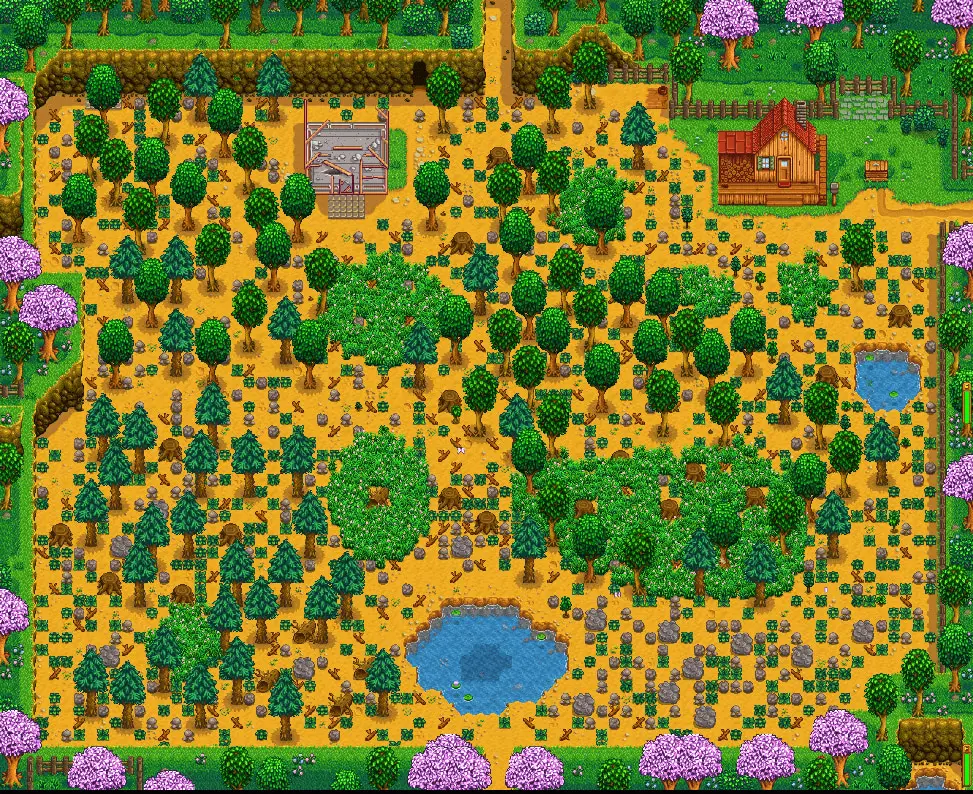 It has the largest farming area of all farm types, with up to 3,427 available tiles for planting, offering great potential for both expansion and decoration. Whether you're into farming, brewing, or raising pigs, it's very convenient and perfect for new players and veterans alike. The main drawback is its somewhat plain appearance, but it can still be made to look beautiful with the right decorations. Generally, new players are advised to start with the Standard Farm, but I personally prefer the Forest Farm as I don't enjoy chopping down hardwood trees in the Secret Woods every day.
(Update: There are Mahogany seeds available, which can be planted and cut down to produce hardwood. As long as you visit the Secret Woods on Fridays and Sundays to chop some hardwood, the demand won't be too high. By the way, Mahogany seeds have a chance to drop when chopping hardwood or killing slimes in the Secret Woods. Remember to apply tree fertilizer to Mahogany trees, as their natural growth is quite slow. Actually, shaking the trees may also cause seeds to drop. I planted three trees, and by shaking them daily, I gathered more than ten Mahogany seeds during one winter season. Foraging skill at level 5, choosing the Forester profession can increase wood drop yields, which is also useful for hardwood. At level 10, the Lumberjack profession allows you to get hardwood from regular trees as well.)
Hardwood requirements are:
– 150 for the third level house upgrade
– 100 for the stable
– 200 for the boat repair.
Suggest Standard Farm Layout: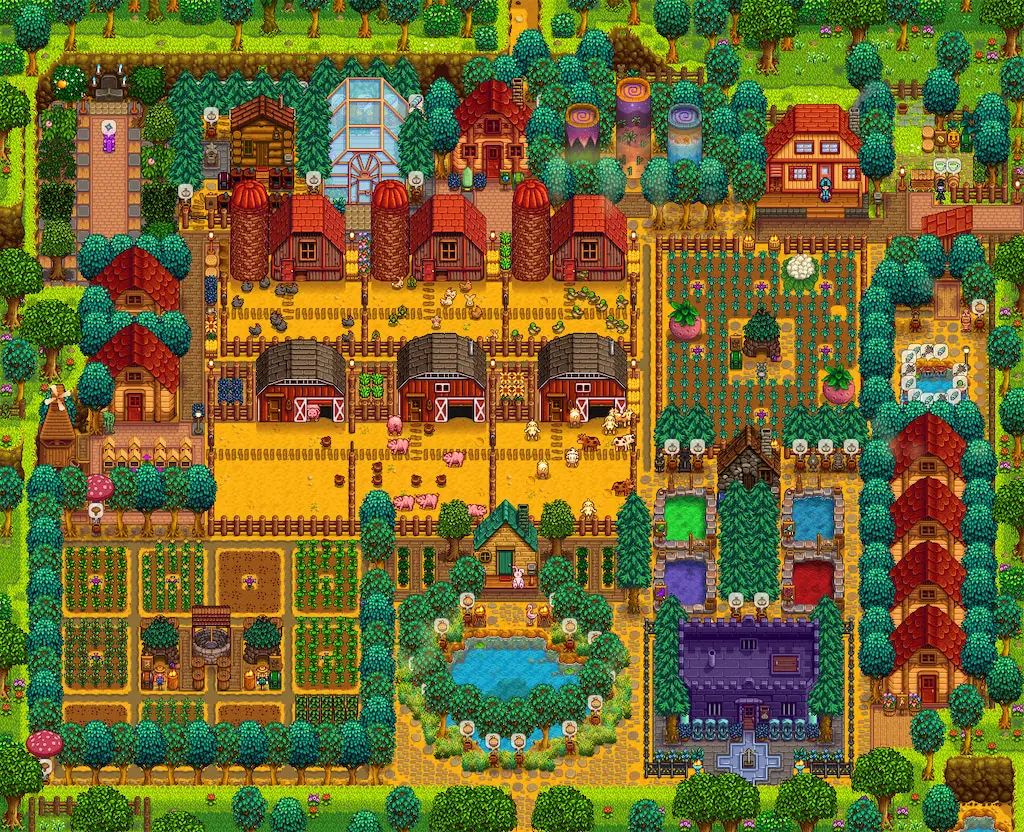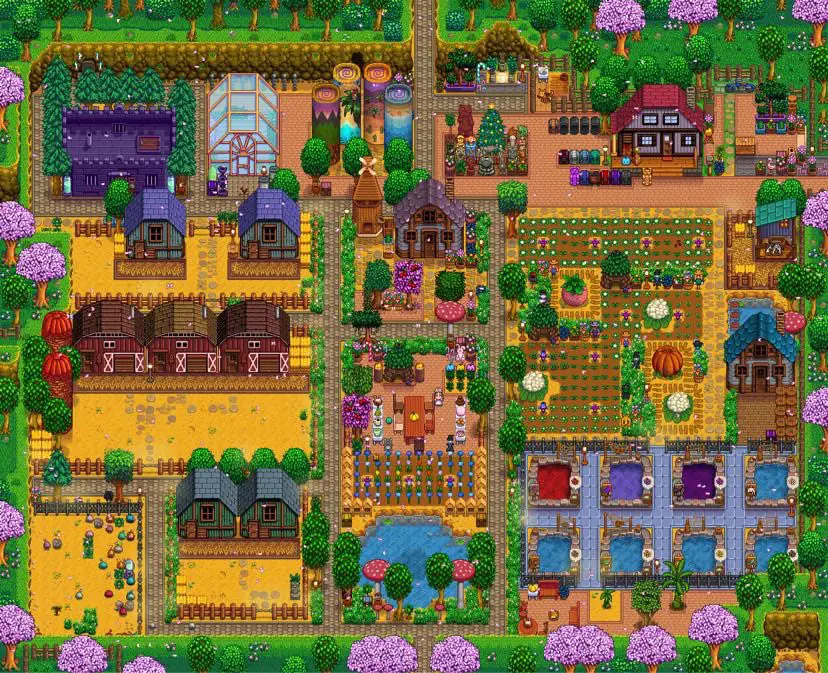 Third, we have the Four Corners Farm.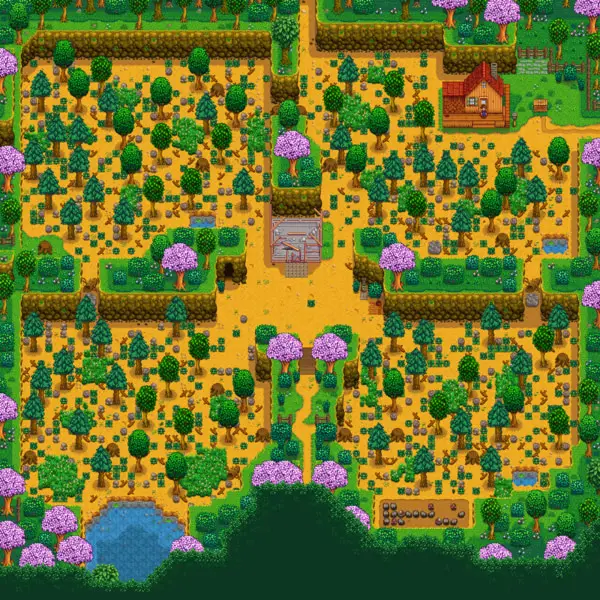 This farm combines features from the Standard, Riverland, Forest, and Hill-top Farms, making it a versatile option. There's a hardwood respawning point in the top-left corner and a small quarry in the bottom-right corner. The pond on the left side has a higher chance of yielding trash when fishing, so it's not recommended to fish there. Each of the four areas is connected by a shortcut blocked by large rocks or logs, which can be unlocked once your tools have been upgraded. The Four Corners Farm is perfect for multiplayer and has significant development potential. A small note: there's a fenced area at the farm's bottom entrance with a shortcut that goes across horizontally—don't keep taking the long route.
Suggest Four Corners Farm Layout: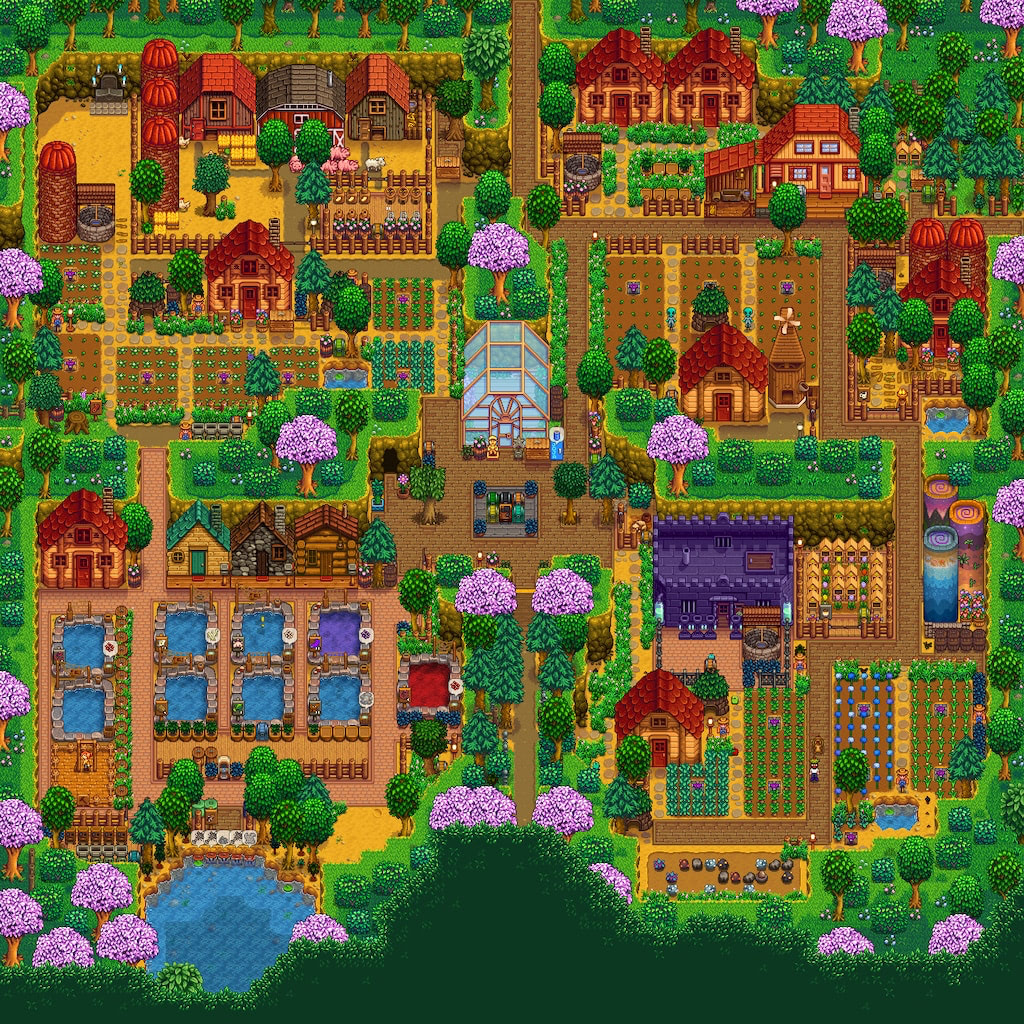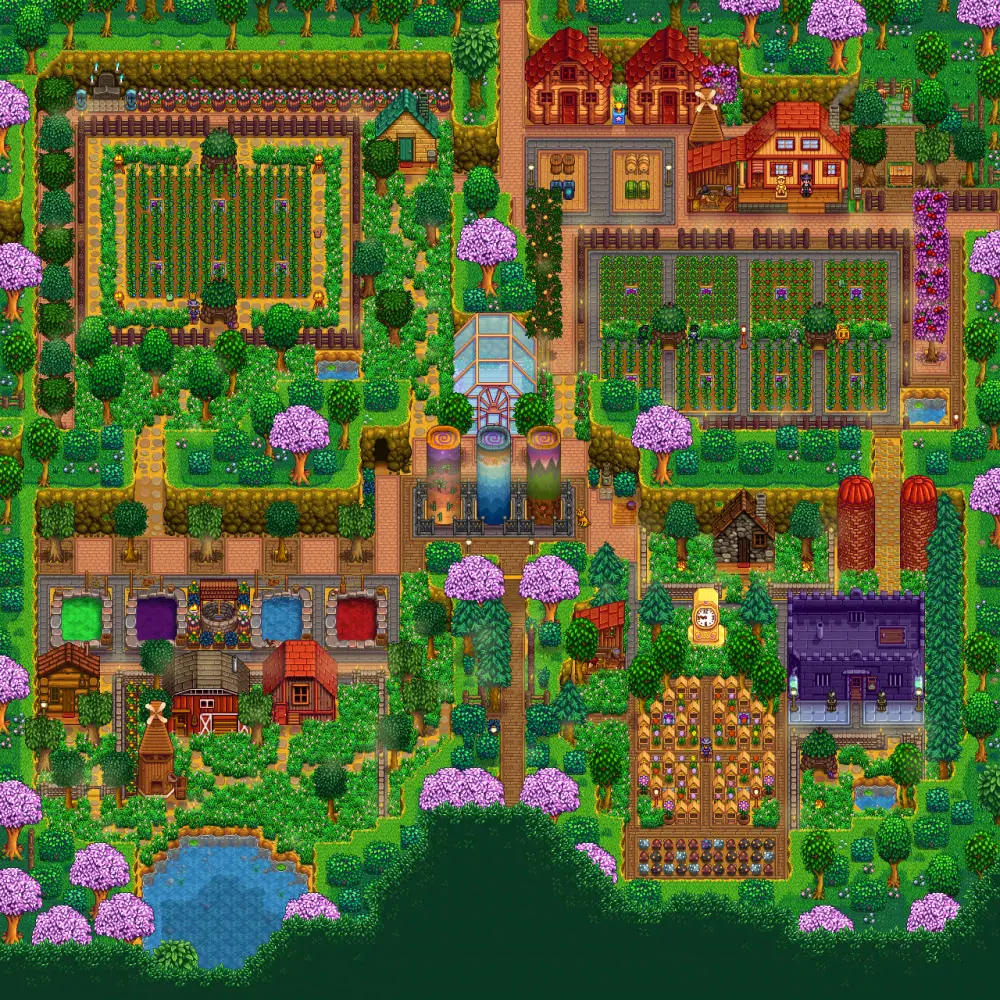 Fourth, we have the Riverland Farm.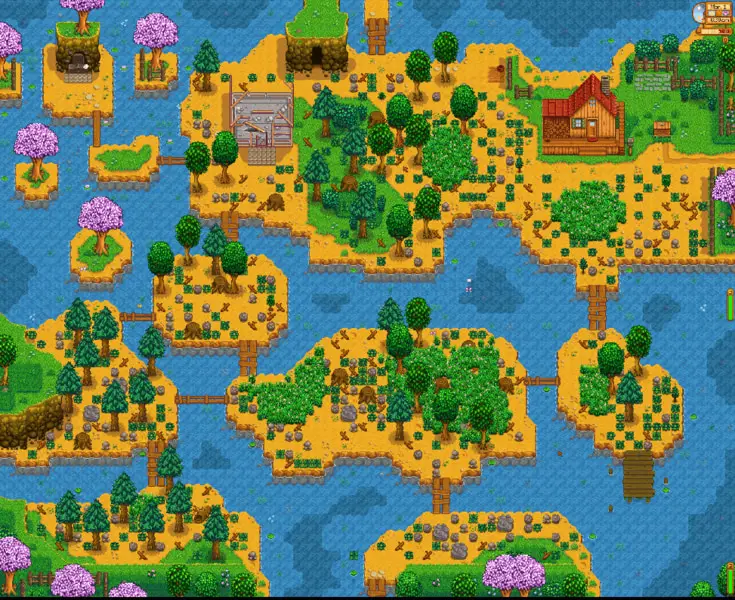 With its vast water area, you can catch fish found in Pelican Town and the forest near the Mines, with a 70% chance of river fish and a 30% chance of pond fish. The Riverland Farm is visually stunning and perfect for players who enjoy fishing, crab pots, and decorating. However, the large water area significantly reduces the available farming and livestock space, with a maximum of 1,578 tiles for planting, similar to the Forest Farm. It's worth noting that the Riverland Farm's layout can be confusing, so new players should memorize the routes before attempting this farm type.
Suggest Riverland Farm Layout: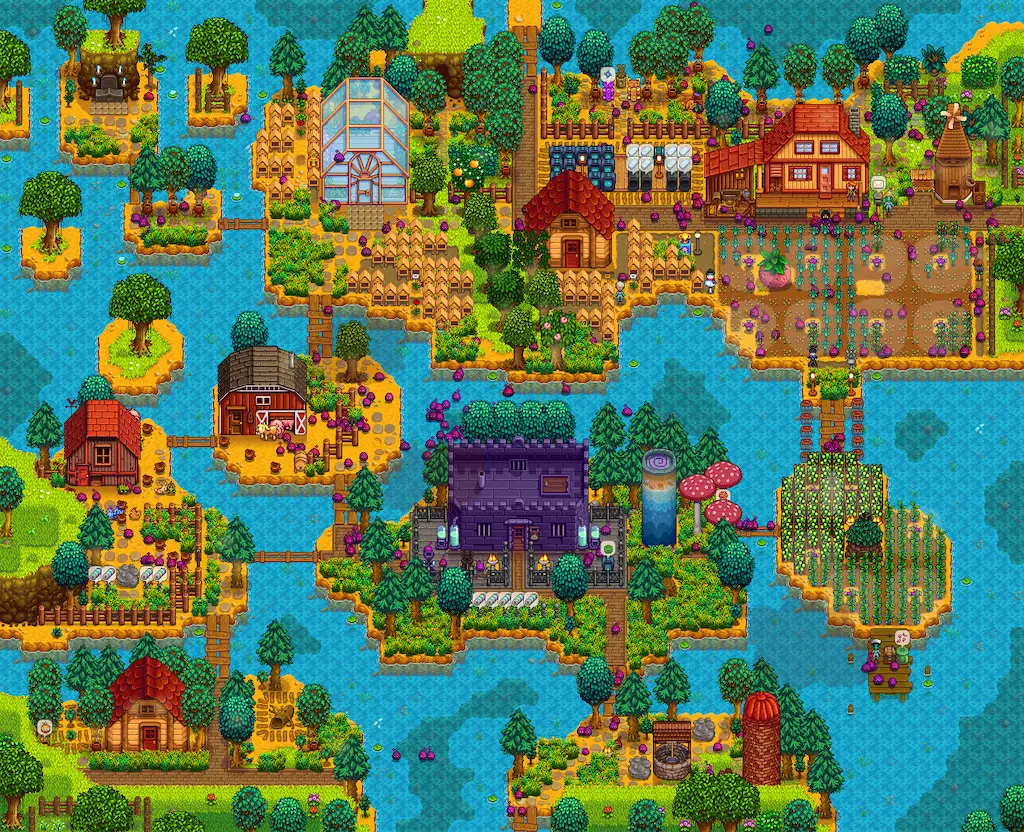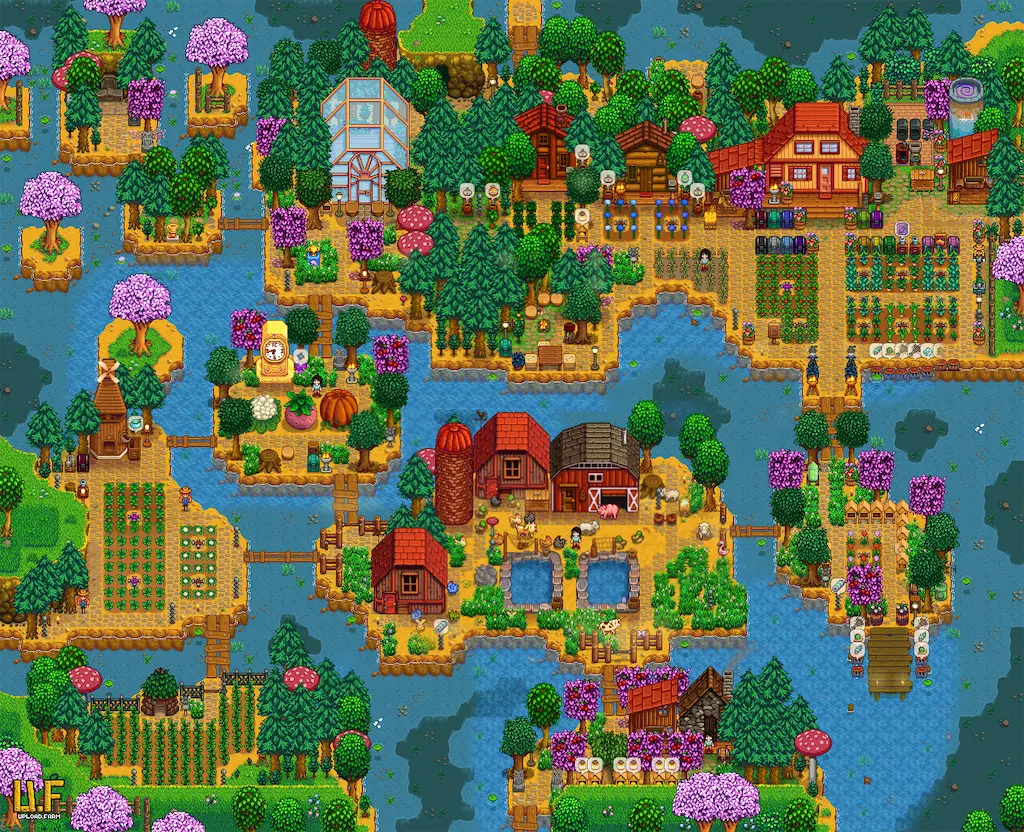 Coming in at fifth place is the Hill-top Farm.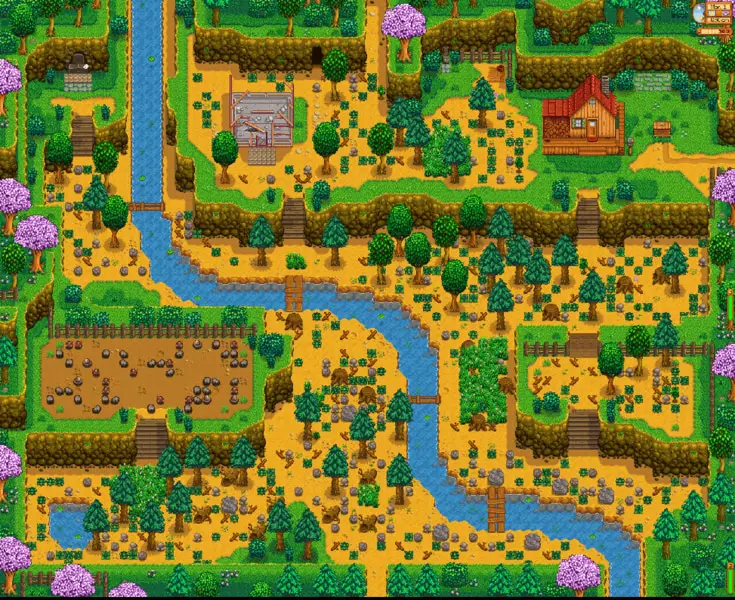 The terrain of Hill-top Farm is quite complex, with rocky terrain and rivers, making farm layout more challenging. However, its advantage lies in the bottom-left corner where there's a mining spot that produces stones, ores, and geodes. In the early game, you can gather a small amount of copper ore and stones, and as your mining level increases, so will the ore quality. However, since you'll also be mining in the mines, having a mining spot at home may not be that necessary and can even be an eyesore. Another feature of the Hill-top Farm is the forest river that crosses the map's center, where you can fish for the same type of fish as in the forest river. Due to the terrain, the available farming area is reduced, with the maximum farming area being 1,648 tiles, which is similar to Riverland Farm. However, Hill-top Farm has a great sense of depth, and some talented players can make it look quite beautiful. New players who are interested can give it a try, but it is not highly recommended.
Suggest Hill-top Farm Layout: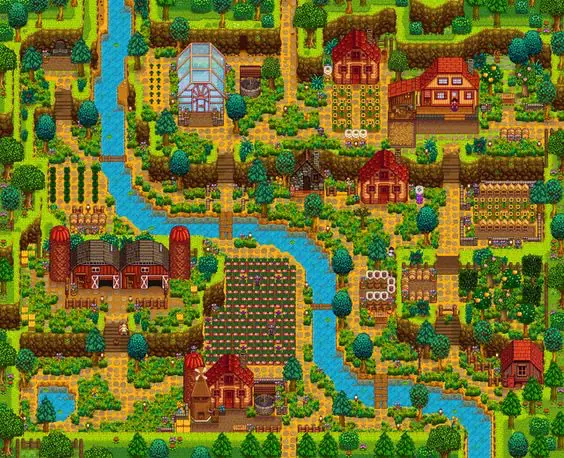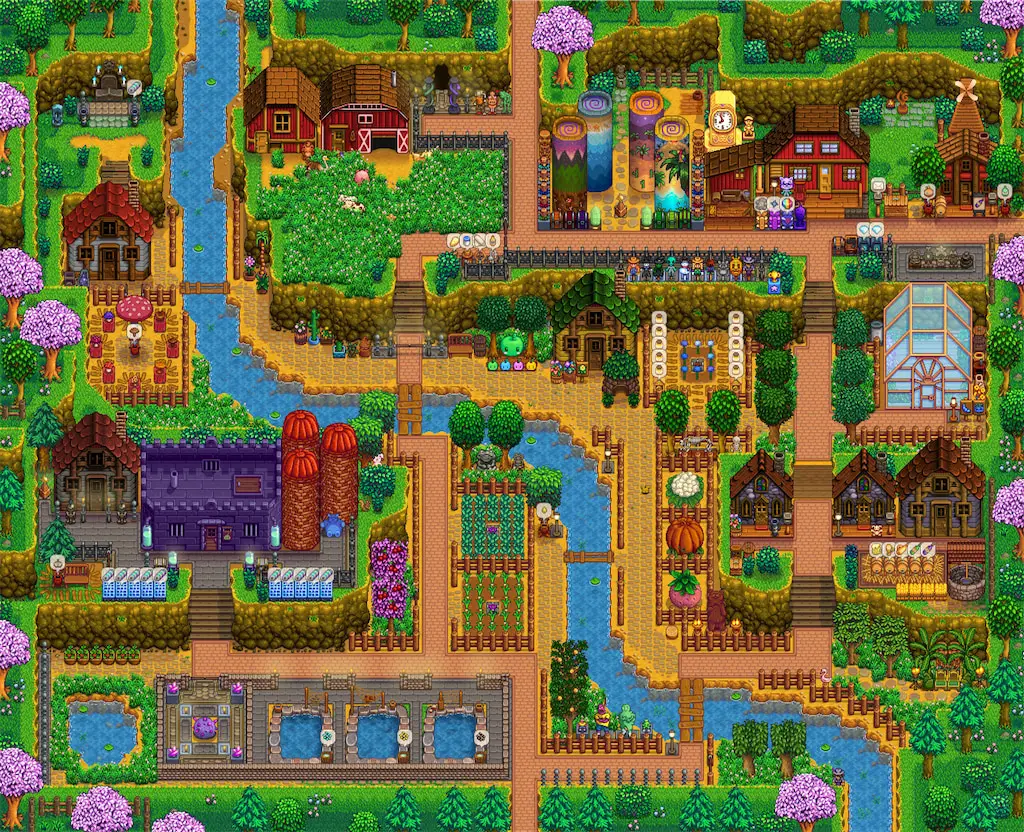 The second-to-last place goes to the Beach Farm.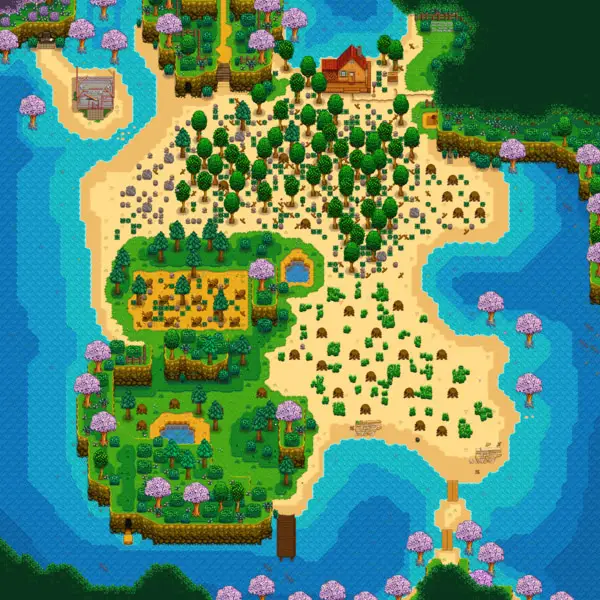 Honestly, I didn't want to rank it this low, as it is truly beautiful. The scenery of Beach Farm is stunning, giving a vacation-like feel. At Beach Farm, you can fish for ocean fish, seaweed, oysters, clams, coral, and more, and occasionally forage for seafood on the shore. Supply crates, similar to the wooden crates in the mines, can be found with random items. The farmable area is quite large, with a maximum farming area of 2,700 tiles. However, most of the farmable land is sandy, which does not allow for sprinklers to be placed.
The Beach Farm offers great flexibility, and players can try various playstyles like fishing, pig farming, and crab pot strategies. Although the lack of sprinklers is a significant drawback, once the greenhouse and Ginger Island are unlocked, farming and ranching are still pretty good. It is very suitable for new players who want a more leisurely experience and wish to relax in the game. However, if you're not very familiar with the game, it's better to avoid starting with Beach Farm, as the difficulty might be a bit higher. As an Easter egg, there's a fishing spot in the bottom-left corner of Beach Farm that can catch a picture of a small boat – try it out!
Suggest Beach Farm Layout: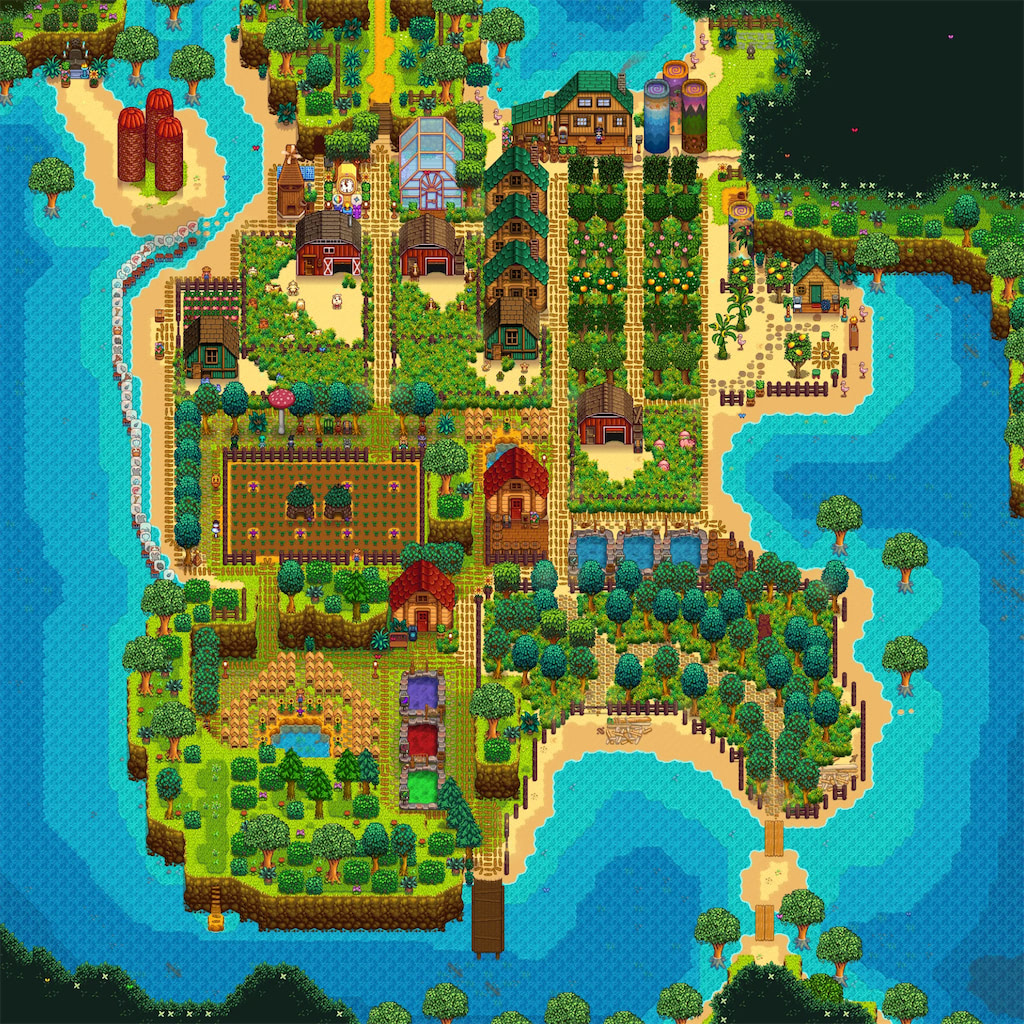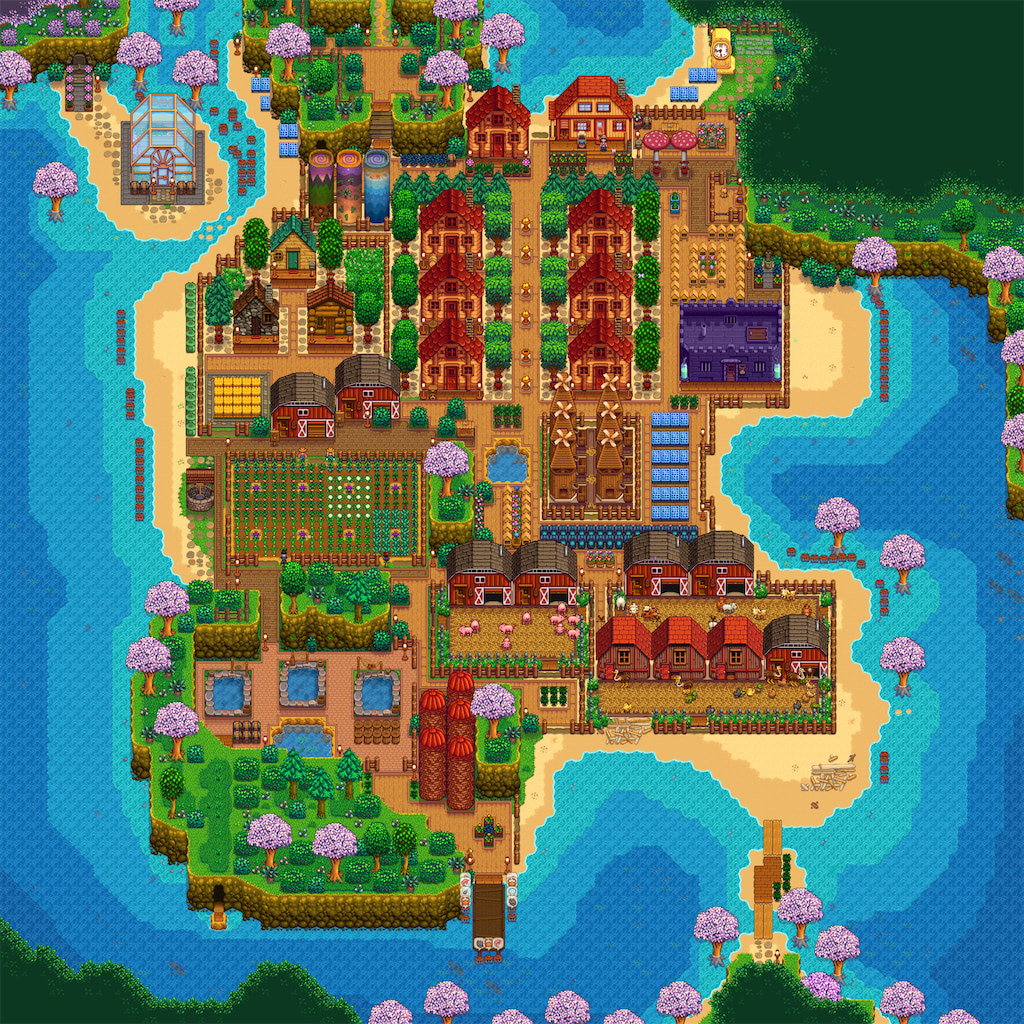 Lastly, we have the Wilderness Farm, ranked in the last place.
The main feature of the Wilderness Farm is the monsters that spawn at night, with more monsters appearing as the player's combat level increases. This is why it is ranked last – how can a hard-working farmer work during the night when there are monsters around? The farm also spawns a unique monster called the Wilderness Golem, which drops coal early on and has a 0.1% chance to drop diamonds. If the player has reached the bottom of the mines, there's a chance to spawn Prismatic Shards as well.
In the later stages of the game, monsters can drop valuable items such as iridium bars and battery packs. If you prefer not to fight monsters, you can visit the Witch's Hut after unlocking it and offer a Strange Bun as a sacrifice to stop monster spawns. As for the Wilderness Farm, it features two large ponds which reduce the available farming space. Despite this, the farm still offers a considerable amount of land with over 2,000 tiles for planting crops.
In general, the Wilderness Farm can be more challenging to manage, making it more suitable for experienced players. However, if you're a beginner looking for a more thrilling experience, you can certainly give it a try.
Suggest Wilderness Farm Layout: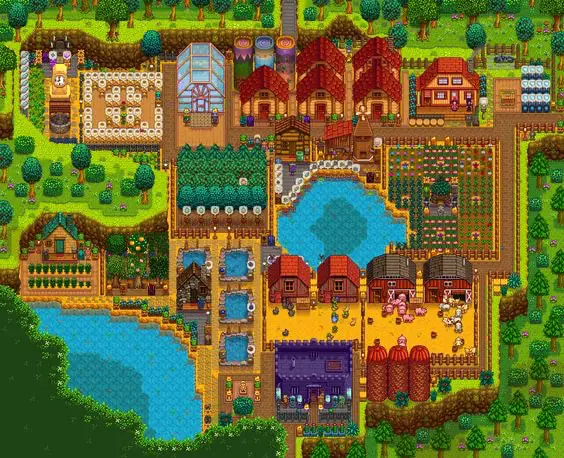 So, there you have it – a ranking of the seven farm maps in Stardew Valley based on my personal opinion. If you have your thoughts or recommendations, please share them in the comments section. No matter which farm you choose, remember to enjoy the game and have fun creating your dream farm!
Fram Layout Source:
1
Source:https://www.tumblr.com/hazel-mazel/616627587319463936/aaaaand-its-done-yeah-after-rearanging
2
Source:https://www.pinterest.co.kr/pin/371054456802804840/
3
Source:https://www.pinterest.com/pin/standard-farm-design–10133167901974271/
4
Source:https://www.ign.com/wikis/stardew-valley/Best_Farm_Layouts_in_Stardew_Valley
5
Source:https://steamcommunity.com/sharedfiles/filedetails/?id=2106015812
6
Source:https://forums.stardewvalley.net/threads/year-8-four-corner-farm-and-outdoor-shed.1897/
7
Source:https://www.reddit.com/r/StardewValley/comments/7ok641/slime_islands_year_3_riverland_farm/
8
Source:https://hisameartwork.wordpress.com/gallery/stardew-valley-mods/farm-maps/
9
Source:https://www.pinterest.co.kr/pin/1055599901043726/
10
Source:https://www.reddit.com/r/FarmsofStardewValley/comments/sncf2i/finally_got_around_to_patching_together_a_high/
11
Source:https://www.reddit.com/r/StardewValley/comments/tedvjx/beach_farm_year_6_100_perfection/
12
Source:https://terrariazu.tumblr.com/post/647726693134614528/beach-farm-a-very-oddly-shaped-farm-and
13
Source:https://www.youtube.com/watch?v=qe8YyAPLBWg
14
Source:https://www.reddit.com/r/FarmsofStardewValley/comments/gstn8x/deleted_by_user/