Many of you have asked me for a gift-giving guide for the villagers in Stardew Valley. In this tutorial, I have compiled some tips on befriending villagers and a useful early game gift guide for beginners. If you're interested, let's dive in!
Overview of Relationship System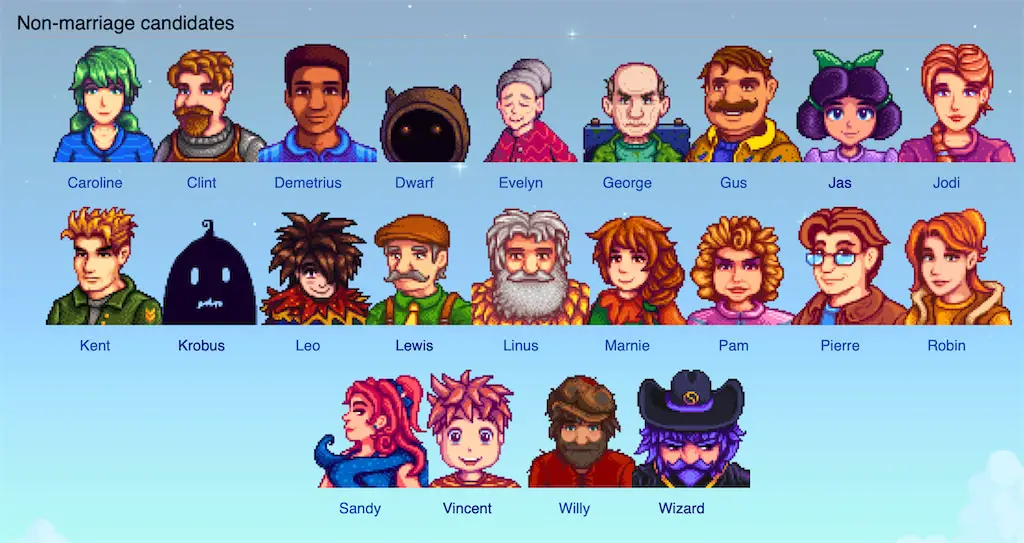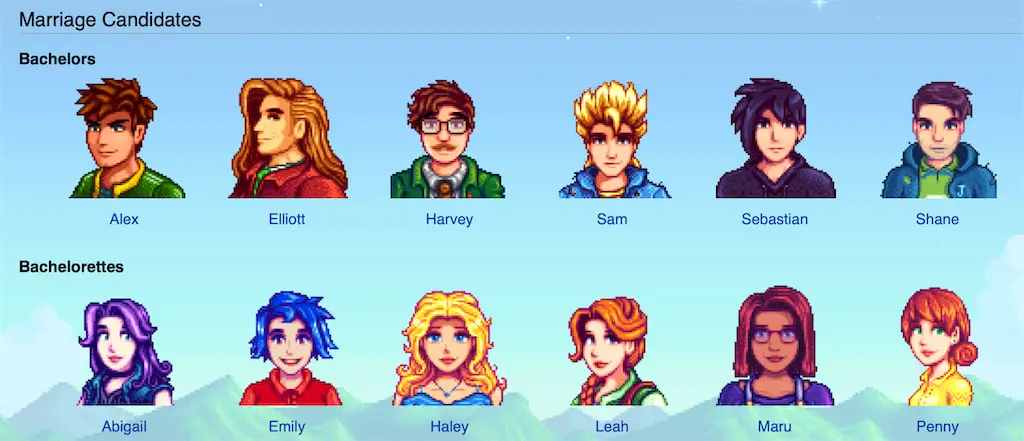 First, let's talk about some basics of befriending. There are a total of 45 villagers in Pelican Town, 34 of whom you can befriend and give gifts to. Among these, there are 12 marriageable villagers. As you progress through the game, you can increase your friendship level with these villagers.
Benefits of Building Relationships
As your friendship level increases, villagers will become friendlier and engage in more intimate conversations. Additionally, at different friendship levels, you will trigger special heart events. Villagers may also send you gifts in the mail.
Not only that, but after reaching a certain friendship level with single NPCs, you can start dating and even get married. In Pelican Town, you can marry someone of the opposite or same sex. If you marry someone of the opposite sex, you can have children, while same-sex couples can adopt.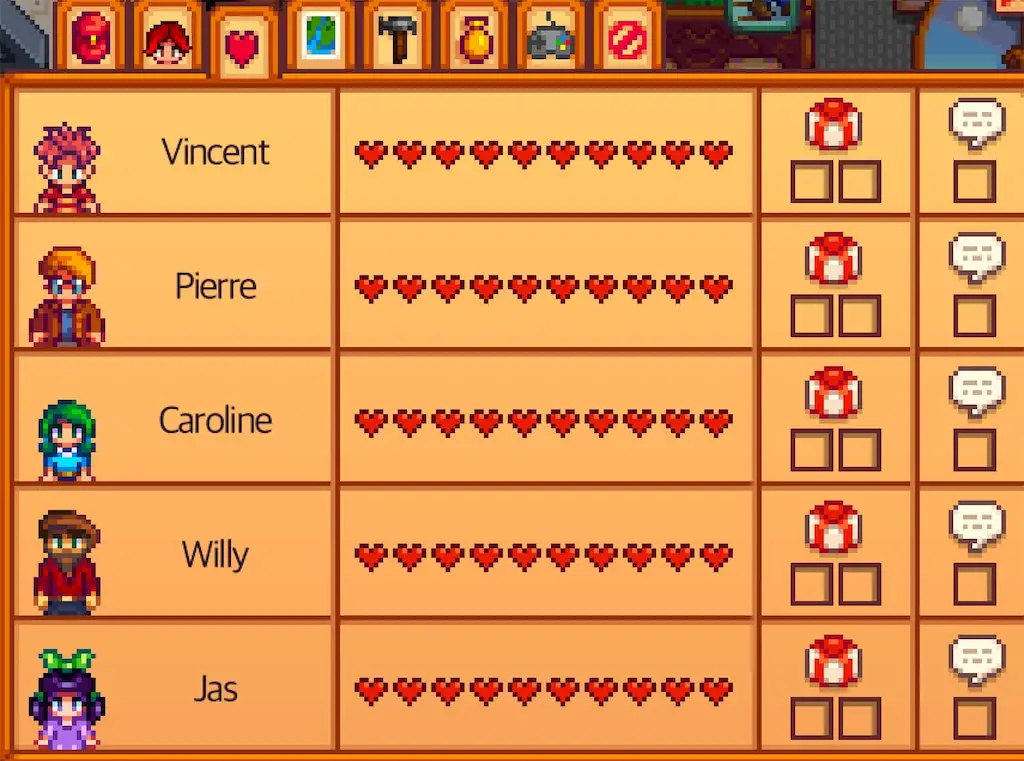 Now let's briefly discuss the friendship mechanic. In the game, the maximum friendship level with regular villagers is 10 hearts, and with your spouse, it's 14 hearts. For single villagers, the maximum is 8 hearts unless you've given them a bouquet. You can check your current relationships and friendship levels in the social tab of your inventory. Note that, aside from your spouse getting jealous, friendship levels with villagers are independent of each other.
To increase villagers' friendship levels, you can:
Talk to them.
Give them their favorite gifts.
Complete their requests or special tasks.
Choose specific options in heart events.
Invite them to the movie theater after repairing it.
Buy their favorite snacks during a movie.
Kiss your spouse (after marriage).
Actions that decrease friendship levels include:
Not talking to villagers.
Hitting them with a slingshot.
Giving them hated gifts.
Going through garbage cans while they're nearby.
When you reach two hearts with a villager, you can enter their room. Linus is an exception since his tent has no door, so you can enter his tent from the start. Keep in mind that if you don't talk to a villager daily, their friendship level will slightly decrease, unless it's already maxed out. Even if you no longer talk to a villager after maxing out their friendship, their friendship points won't decrease, but other actions like giving hated gifts can still lower it.
Key Festivals for Relationship Building
In Stardew Valley, there are also various festivals. Talking to villagers during festivals will have the same effect on friendship levels as talking to them on regular days, so make sure to seize these opportunities and talk to every NPC.
There are three festivals in Stardew Valley that directly impact our relationships with the villagers: the Flower Dance, the Luau, and the Feast of the Winter Star.
During the Flower Dance, our relationship with our dance partner will increase. At the Luau, our relationships with all villagers will either increase or decrease, depending on the quality of the soup we give to the Governor. During the Feast of the Winter Star, gifting our Secret Santa will yield five times the usual relationship points, so it's important to make the most of these festivals to save time and effort.
The Community Center and Relationships

Moreover, for those who choose the Community Center route, completing the bundles will increase the relationship points with non-marriageable villagers. Keep in mind that this only applies to villagers you have met and who have a friendship system.
The Dating and Marriage Process
As for single villagers, when our relationship reaches eight hearts, we can give them a bouquet to unlock two more hearts. Before marriage, giving bouquets to multiple villagers is harmless, but doing so after marriage may lower your spouse's relationship points. When your relationship with a single NPC reaches ten hearts, you can propose with a Mermaid Pendant bought from the Old Mariner at the eastern dock on a rainy day. You can also offer a Void Ghost Pendant to Krobus to invite him as a roommate.
Life After Marriage
After marriage, the spouse or roommate's relationship cap increases to 14 hearts. When it reaches 13 hearts, they will give you a Stardrop, which permanently increases your energy. However, be aware that relationship decay with your spouse never stops after marriage, so don't assume you're set for life — maintain the relationship with your spouse.
Gifting Guide for Beginners
As for dating, marriage, breakups, and divorce, there's too much to cover in this tutorial, so we will have a separate Stardew Valley Marriage Mini-Course later. In this tutorial, we'll focus on the gifting guide. Villagers have various preferences, including universally loved, liked, and hated gifts. The full list can be found on the Stardew Valley official wiki. However, for beginners who may not have many gifts available, we've compiled a simplified list of practical gifts.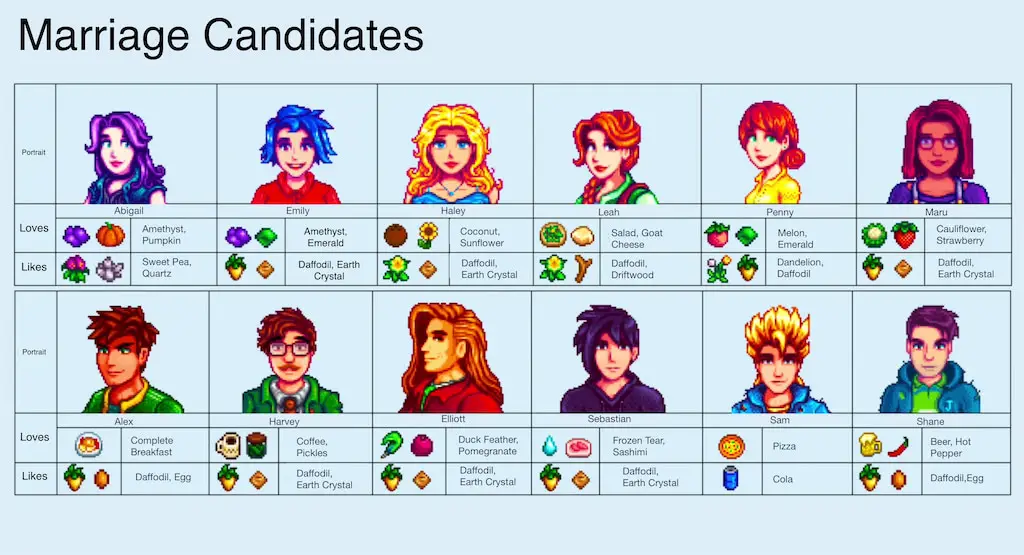 Addition
Here are some NPCs worth gifting in the first spring, with easily obtainable items:
| NPC | Gifts | Rewards & Benefits |
| --- | --- | --- |
| Lewis | Daffodils and Dandelions | He may send you 500g in the first week. |
| Linus | Fish from fishing | Upgrade your farmhouse for the Sashimi recipe. |
| Caroline | | Unlock the Tea Sapling recipe at 2 hearts. |
| Clint | Green Algae from fishing | Unlock Algae Soup recipe at 3 hearts. |
| Pam | Loves Dandelions, give her a Gold Star Dandelion on her birthday on Spring 18 | She'll send you a battery at 3 hearts. |
| Shane | | Unlock the Pepper Poppers recipe at 3 hearts, provides +1 speed for 7 minutes, but you'll have to wait until summer for peppers. |
| Emily | Cheap gems like Amethyst or Topaz | At 3 hearts, she'll send you the Salad recipe and other gifts to speed up your community center progress. |