Today we will discuss Starfruit and Ancient Fruit, two of the core crops for wine-making in Stardew Valley. Many players often compare these two crops, so in this tutorial, we will provide you with relevant knowledge. If you're interested, let's take a look.
Starfruit: An Overview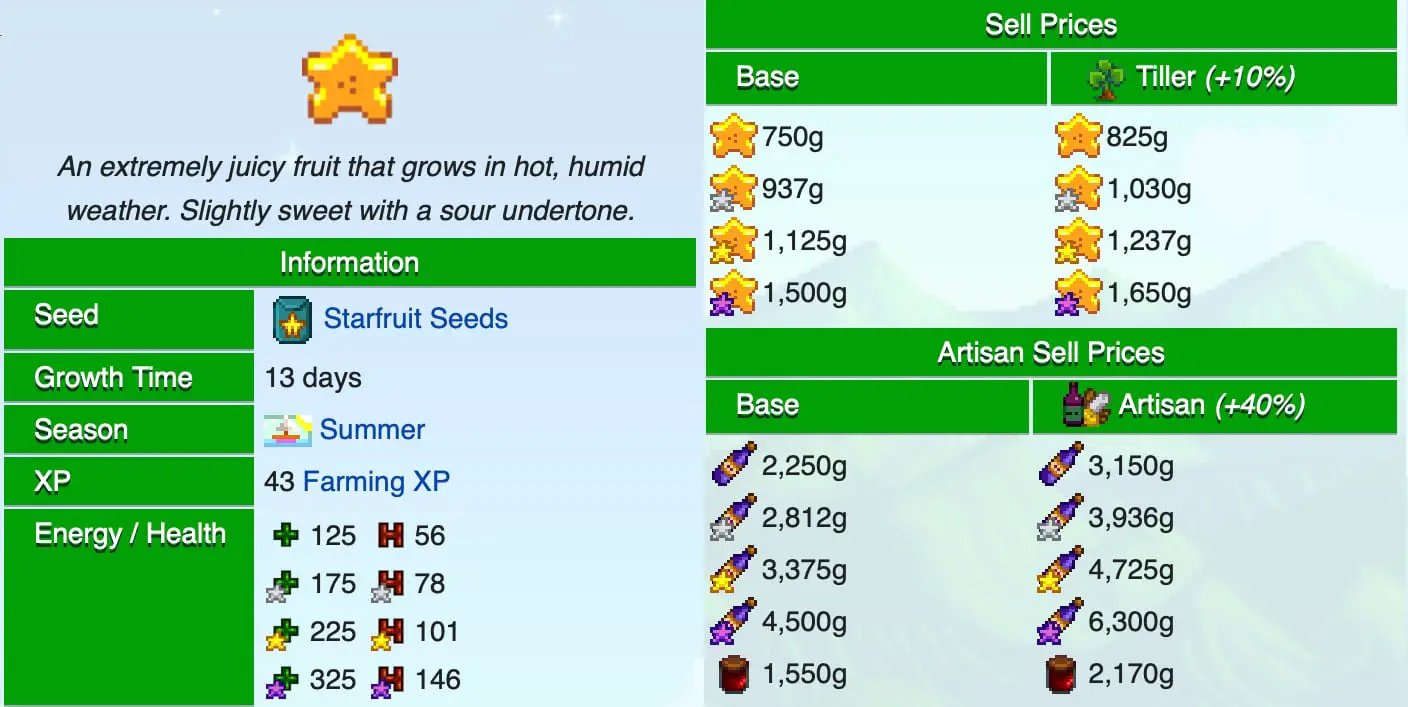 Starfruit is a summer crop with a growth cycle of 13 days and is harvested once. After unlocking the desert, you can purchase Starfruit seeds for 400 gold at Sandy's shop and then plant them.
Advantages:
Easy to obtain seeds
High selling prices for both fruit and wine
Disadvantages:
Tedious to harvest and replant, especially as your farm expands
Ancient Fruit: An Overview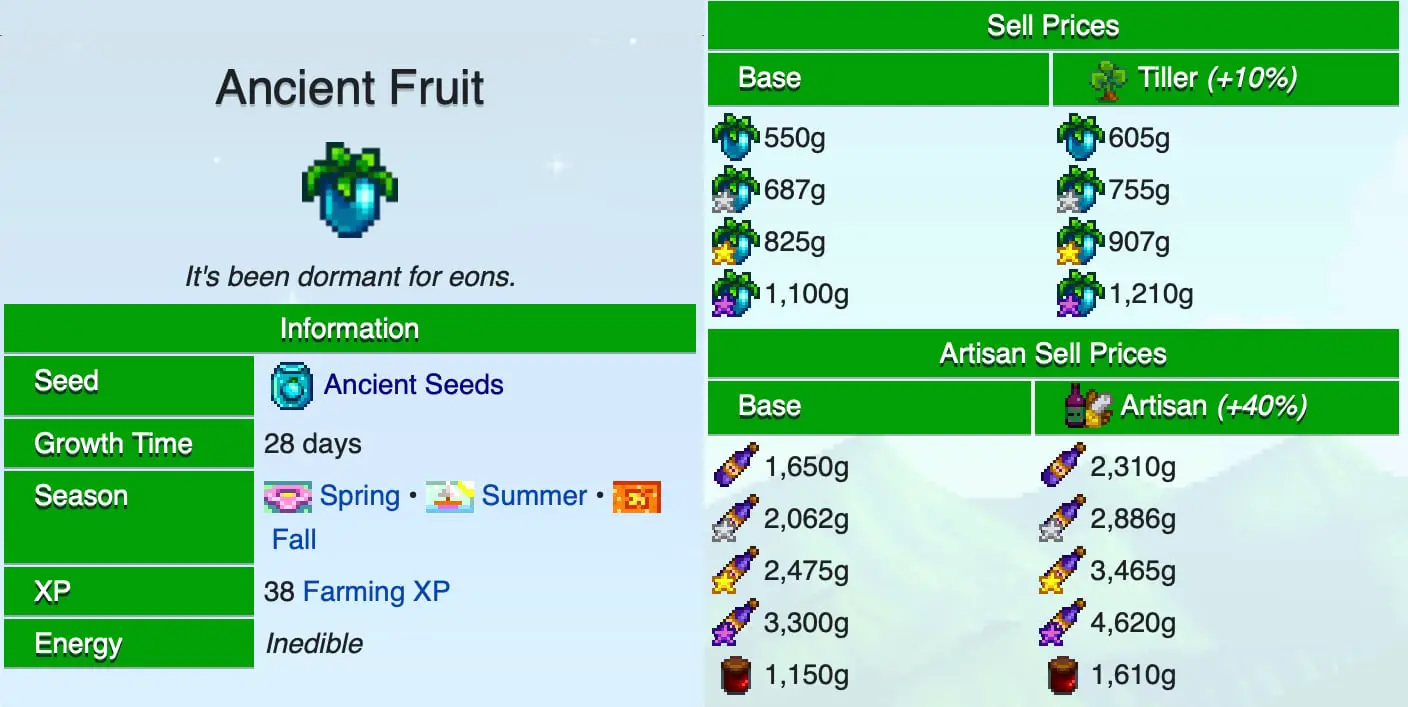 Ancient Fruit can grow during spring, summer, and fall with a growth cycle of 28 days, maturing every seven days. To plant Ancient Fruit for the first time, you need to obtain Ancient Seeds through either fighting monsters, digging up worms, fishing, or trying your luck at the Traveling Cart.
Advantages:
Low maintenance, perfect for greenhouse or Ginger Island planting
Ongoing benefits once planted
Maturation time aligns with the wine-making process, making it more efficient
Disadvantages:
Harder to obtain seeds
Takes a long time to establish a large-scale planting, meaning it doesn't generate much profit initially
Obtaining Ancient Seeds

Fighting monsters, digging up worms, or fishing to get an Ancient Seed to donate to the museum, which will reward you with the Ancient Seed recipe and seeds.

Trying your luck at the Traveling Cart on Fridays and Sundays, where there is a 1.26% chance of finding Ancient Seeds.
Growing Ancient Fruit

Unlike Starfruit, you cannot obtain a large number of Ancient Seeds at once unless you use cheats or exploits. Instead, you'll need to plant and harvest Ancient Fruit, then convert them into seeds using a Seed Maker and gradually fill your farm.
Profit Comparison: Starfruit vs. Ancient Fruit
It's challenging to directly compare profits due to the differences in planting methods and prerequisites. In short, when both are planted in a greenhouse (as Ginger Island has too much land to calculate easily), Starfruit has a higher profit initially since seeds can be purchased directly, while Ancient Fruit must be converted into seeds to fill the greenhouse.
Long-term Profits

Once Ancient Fruit fully covers the area and no more seeds are needed, the harvested fruit becomes pure profit, eventually surpassing Starfruit's profit in the first year and beyond.
Short-term Profits

If you're looking at short-term profits within the first few years, Starfruit is more profitable.
In the long run, Ancient Fruit is the more profitable option. However, there's no need to compare them strictly, as you can plant both simultaneously. You can plant Starfruit while obtaining or converting Ancient Seeds, and switch to Ancient Fruit later for long-term profits.
Late Stage Profit Comparison: Starfruit vs. Ancient Fruit in Greenhouse
Planting location: Greenhouse with 116 plots
Fertilizer: Deluxe Speed-Gro
Skill: Artisan
Equipment: 116 kegs
Product: Regular wine
Duration: 112 days in a year
Note: Excluding the profit from Ancient Fruit seeds, assuming an average fruit price of 600 gold, and with the Seed Maker yielding an average of 2 seeds per fruit (range is 1-3), each seed would cost approximately 300 gold. The one-time seed cost for 116 seeds would be 116 * 300 = 34,800 gold. Even with the seed cost, the overall profit is still higher.
Starfruit (with Deluxe Speed-Gro, maturing every 9 days):
Harvest: 12 times
Wine-making: 11 times
Seed cost: 400 gold each
*Assuming the first wine production takes 9+7=16 days and each subsequent wine-making requires an additional 2 days, the interval between wine-making would be 2+7=9 days. In this case, the number of times wine can be made in a year is (112-16)/9+1 = 11 times.
Total profit: 11 * 116 * (3150 – 400) = 3,509,000 gold
Ancient Fruit (with Deluxe Speed-Gro, 22 days to mature initially, then fixed harvest every 7 days; this calculation is for when the greenhouse is fully planted, not considering the 22-day initial maturation period):
After fully grown, harvest every 7 days
Harvest: 15 times
Wine-making: 14 times (starting from the first harvest)
Total profit: 14 * 116 * 2310 = 3,751,440 gold
This comparison demonstrates that in the late stage, when the Ancient Fruit fully covers the greenhouse, it is more profitable than Starfruit, even when considering the one-time seed cost.
Conclusion
Focusing too much on profit may detract from the game's intended experience, so it's not necessary to compare Starfruit and Ancient Fruit too closely. Instead, enjoy the process of growing and managing your farm, experimenting with different crops, and discovering which combination works best for your playstyle. Remember, the goal of Stardew Valley is not solely to make a profit, but to immerse yourself in the world and create a thriving, self-sufficient farm while building relationships with the characters in the game.