Stardew Valley is a game where every little aspect adds up to create an immersive experience. One such facet is fishing, a relaxing yet challenging skill to master. Ginger Island, with its tropical setting, takes fishing to a whole new level. Unlike the main land of Pelican Town, Ginger Island doesn't have seasonal restrictions. Instead, it has unique fishing spots rich with exclusive catches. This article will cover the different fishing spots, types of fish, appearance probabilities, and some useful fishing tips when you're on Ginger Island.
Types of Fishing Spots in Ginger Island
There are three main types of fishing water bodies in Ginger Island:
Saltwater: Available in four distinct locations.
Freshwater: Two locations are available for this.
Lava: Located in the Volcano Dungeon.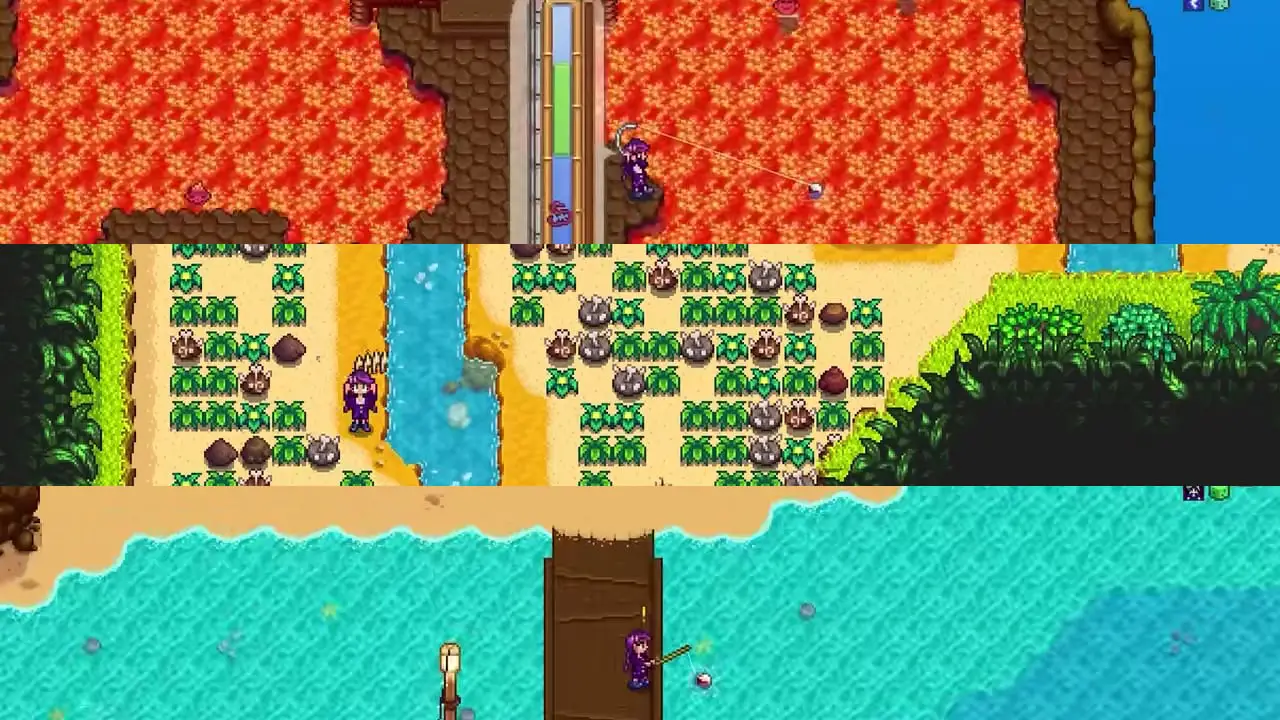 Saltwater Fishing Locations
Island Dock: This is the pier you first land on when arriving at Ginger Island.
Farm Beach: Found near your Ginger Island farm.
Mermaid Cove: Unlocked after accessing the island resort.
Pirate Cove: The secret bay within the island.
Fishes Found at the Island Dock
Here, you can catch Sea Cucumber, Tuna, Pufferfish, Flounder, and Lionfish. While there are no weather restrictions for these fishes, each has its own time slot.
Tuna appears from 6 a.m. to 7 p.m.
Flounder from 6 a.m. to 8 p.m.
Pufferfish are available from 12 p.m. to 4 p.m.
Sea Cucumbers can be caught from 6 p.m. to 2 a.m.
Pro Tip: Use a fishing mod to display catch probabilities. Just keep in mind that these mods (Fishing Info Overlays)might not be 100% accurate.
Catch Rates at the Island Dock
In the morning, you have a 41% chance for Lionfish, 21% for Tuna and Flounder, and 17% for trash items. As the day progresses, the rates change. After 12 p.m., Lionfish drops to 33%, Pufferfish is at 26%, and the rest are at 17% with 8% for trash. In the evening, Sea Cucumber becomes more prevalent at 15%, while trash catch rate drops to 12%.
Freshwater Fishing Locations
Freshwater fishing in Ginger Island is mainly available in two spots:
Island Farm Pond
Northern Dig Site
Both spots contain the same types of fish: Stingray, Midnight Carp, and Blue Discus.
Timing and Probability for Freshwater Fish
Stingray is available from 6 a.m. to 2 p.m.
Blue Discus is available all day.
Midnight Carp appears from 10 p.m. to 2 a.m.
If you're looking to cook up some Seafoam Pudding, Ginger Island is the place to collect Midnight Carp due to its high appearance rate of 41%, as opposed to 15% in Cindersap Forest Lake during Fall and Winter.
Pro Tip: For the best catch rates, cast your line into the deep water areas of the pond.
Volcano Dungeon Lava Fishing
The Volcano Dungeon offers a unique fishing opportunity with the chance to catch Lava Eels and rare Tiger Trout. However, note that your first catch will always be a Magma Cap, a unique forageable item.
Pro Tip: If you're after Lava Eels, it's generally better to fish at the Volcano Summit due to higher catch probabilities.
Summary
Ginger Island offers a rich fishing experience with unique locations and exclusive fish types. From the relaxing Farm Beach to the mysterious depths of the Volcano Dungeon, each location has something unique to offer. While there, you can also catch other rare fish like Pufferfish, Octopus, Midnight Carp, and Lava Eel which are otherwise bound by seasonal or locational restrictions.